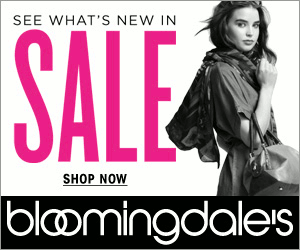 Christmas is a few days away and it's only a matter of time before families gather to celebrate the merriest day of the year. In an effort to prepare for the universal gift-giving tradition, bargain hunters will try their best to gift every name on their holiday shopping list with the perfect present while saving considerable cash. Help your audience members experience extreme savings while completing their holiday shopping through these last-minute Christmas deals now available on the FlexOffers network!
---
By marketing the Bloomingdale's affiliate program on your landing page, your users will have access to one-of-a-kind products to fulfill the unique desires of every friend on their Christmas list. Through Bloomingdale's wide range of products, your patrons will find gifts that benefit all their friends and cement their status within their social circle as friend of the year.
Visit the featured holiday shops at Bloomingdales.com and explore our best gifts!
---
While shopping for men can be somewhat challenging, they certainly deserve better than socks this holiday season. Luckily, Nordstrom.com offers a unique selection of quality winter outerwear to add the final touch to their holiday party outfit. The Nordstrom's Topman Holiday 2019 collection is packed with wardrobe staples that every fashionista should own.
Zippered Knits, Toasty Puffers and Street-Style Add-Ons—the Topman Holiday 2019 Collection Has Landed at Nordstrom. Free Shipping, Pick up In-Store and More!
---
If your site visitors are still searching for that one gift that speaks to the beauty experts on their shopping list, then they needn't look any further than the Macys.com affiliate program. Macy's exclusive brand, M.A.C, holds high-quality products that any beauty guru can implement into their skincare or makeup routine, such as primers, foundation, eye shadow, and more. This holiday season, your page viewers can access discounted M.A.C gift sets that'll help them save cash on gifts that inspire the makeup artist within.
This holiday season, make you and yours sparkle with M·A·C! Shop Gift Sets with a value up to 60%
---
As Christmas approaches, planning a last-minute, wallet-friendly family vacation may seemingly be impossible. However, there is still time for holidaymakers to score last-minute deals no matter where they want to visit through the MyFlightSearch affiliate program. At MyFlightSearch.com, the travelers among your audience can access great savings per passenger and spend quality time with the ones they love without compromising their budget.
Make the most of this Holiday with our cheap Christmas flight & offers. Save up to $60 with promo code XMAS60 Valid 11/21 until 12/26
---
It is no secret that the modern woman possesses countless qualities that serve as an inspiration to their friends and family. Through the Tory Burch affiliate program, your web traffic can find on-trend fashion designed to complement women hailing from all walks of life. Emblematic of Tory Burch's versatility is its Ella Tote, available in a variety of colors and prints. The Ella Tote also offers a spacious interior, which gives fashionistas a unique combination of style and functionality wherever they may travel.
Online Exclusive: Holiday Edition – Discover the Ella Tote in Our New Print, Available Only at ToryBurch.com
---
Christmas day is usually accompanied by delicious holiday dishes and treats that could negatively affect a gym junkie's strict dietary plan. Fortunately, Finish Line offers a broad selection of sportswear, athletic shoes, and stocking stuffers to complement any post-holiday workout your customers might have in mind. Whether in search of aerobic or strength-building shoes and apparel, exercisers will be sure to find big savings that get them back on track at Finishline.com.
Get $15 off $150 with code 15HOLIDAYS150 at Finishline.com!
---
Capitalize on these last-minute holiday deals now available on your landing page via FlexOffers.com today!