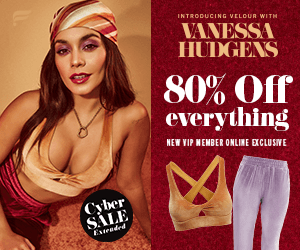 The holidays are near, which means last-minute shoppers will likely be in search of discounts on hot-ticket items to complete their wish lists. Thankfully, the FlexOffers team has collected a variety of bargains from popular brands to help consumers' holiday wishes come true.
Allow bargain hunters access to discounts on highly coveted items when you promote these last-minute deals just in time for the holidays, via FlexOffers.com!
---
Shoppers seeking the one gift that will keep fitness enthusiasts in their lives motivated throughout the holidays needn't look any further than Fabletics activewear. Even if they're tardy to the holiday shopping party, customers will find stylish gear and accessories for men and women geared toward helping gym-goers look and feel their best no matter where their next adventure may take them. By signing up with Fabletics this holiday season, subscribers can experience evolved activewear that travels with them beyond the gym and into their daily lives.
Market Fabletics offers and give customers access to Fabletics' Extended Cyber deals to become new members and save 80% Off Everything!
---
Whether embarking upon a last-minute search for a new keyboard or the latest version of an in-demand video game, Gamestop's inventory is comprised of premier gifts gamers are guaranteed to love. When browsing gamestop.com, holiday shoppers will also be privy to a wide range of gaming accessories capable of leveling up one's gaming experience at an affordable rate.
Promote Gamestop deals on your site for customers to find gifts that gamers will love this holiday season.
---
Kipling bags and travel sets combine quality, function, and style to create the ultimate accessory. Its bags are carefully designed to help customers live light and make the most out of each day. This holiday season, customers can purchase travel-ready gifts at kipling-usa.com and receive their order just in time for the holidays.
Highlight Kipling's deals on your site and allow customers to save 50% Off Little Mermaid x Kipling Collection!
---
FitFlop's collection of women's winter shoes allows budget-conscious consumers to purchase comfortable, yet trendy footwear for the shoe enthusiasts on their shopping list. From platform ankle booties to suede high-top sneakers, Fitflop customers are guaranteed to find quality shoes at a discounted rate. For shoppers concerned over last-minute price hikes, FitFlop has them covered. For a limited time, customers who shop at fitflop.com/us can save big when they use the code 'SAVE30' at checkout on orders totaling $150 or more. They're also eligible to receive pre-holiday shipping guaranteed when they buy before December 17th.
Market FitFlop's promotions and help customers save $30 at FitFlop.com using code: SAVE30
---
Shop Premium Outlets is home to Sabrina Designs Co, a reputable jewelry store that specializes in providing fine jewelry sets for women. From birthstone necklaces to shimmering diamond earrings, customers are sure to find the one gift to wow that special someone in their lives this holiday season. Currently, at shoppremiumoutlets.com, customers can save up to 30% off Sabrina Design Jewelry and enjoy free shipping on all orders.
Promote Shop Premium Outlets discounts on your landing page and provide shoppers access to Shop Premium Outlets Holiday Sale.
---
CurrentBody UK offers highly effective beauty products to help beauty enthusiasts protect and nourish their skin throughout the winter months and beyond. When shopping at currentbody.com, holiday shoppers can purchase CurrentBody's BeautyBio limited edition Christmas gift sets all the way up until the holiday buzzer. Current Body's Christmas gift set allows last-minute shoppers to supply family members and friends with the gift of glowing skin for up to 30% off the regular price.
Market CurrentBody UK deals on your site and motivate shoppers to buy CurrentBody UK BeautyBio Holiday Sets.
---
JustFab is the online destination for trendy and affordable women's shoes. Whether preparing for a family gathering or an office holiday party, JustFab features footwear suitable for any occasion. When you promote JustFab affiliate links on your site, holiday shoppers who have yet to cross off a single item on their holiday wish list can obtain exclusive footwear designs at prices that won't break the bank. Now at justfab.com, new VIP customers can purchase their first pair of shoes for $10 and save 50% off additional styles when they sign-up with justfab.com.
Highlight JustFab deals on your site for shoe enthusiasts to become a new JustFab VIP Member.
---
Market these last-minute deals just in time for the holidays via FlexOffers.com today!