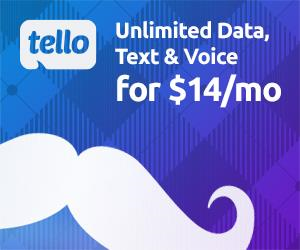 From teaching their kids how to ride a bike, to walking their daughter down the aisle, fathers hold a special place in the hearts of many. With Father's Day less than a week away, families across the country are likely still in search of gifts that represent love and gratitude for fathers who routinely go beyond the call of duty. Help your readers procure gifts that dad will assuredly appreciate through these last-minute Father's Day deals now available on the FlexOffers network!
---
While some may have the luxury of celebrating Father's Day alongside their dad, others may not have the benefit of living near their father. Luckily, the Tello | Mobile affiliate program allows your site visitors to stay connected with dad irrespective of the mileage between them. Tello offers customers nationwide coverage and flexible plans at affordable rates, allowing sons, daughters and fathers to feel each other's presence no matter where they are in the world.
Father's Day Deal: Unlimited Data, Talk & Text for just $14/mo for the first month
---
Through the JCPenney affiliate program, your web traffic will be able to obtain gifts that best suits dad's interest. From athletic attire and footwear for the dads who like to stay active, to small kitchen electronics for those who enjoy cooking new recipes for their families, JCPenney has an assortment of products that will make every father feel special. For a limited time, customers can enjoy 25% to 30% off when they shop at jcpenney.com.
Father's Day Sale – Extra 30% off when you spend $75 or more, or extra 25% off when you spend under $75. Ends 6/21
---
June weather is ideal for outdoor activities. This Father's Day, families can take advantage of the warmer temperatures and take a new approach to the upcoming holiday. From planning a fishing trip with dad and grandpa, to spending the weekend camping with the family, Bass Pro Shops' inventory is comprised of gear certified to facilitate a successful Father's Day outdoor adventure.
Save up to 50% in Bass Pro Shops Father's Day Sale!
---
Helping dad complete home projects around the house can go a long way towards putting a smile on his face this Father's Day. Fortunately, the Lowe's affiliate program allows customers to obtain premium hand and power tools that keep handy dads motivated through every DIY endeavor. Now at lowes.com, shoppers can browse through Lowe's Father's Day gift catalog and find tools that will best suit dad's latest home project.
6/11 – 6/21: Great Gifts for Dad: Unleash Dad's Creativity. Offer ends 6/21/20. @Lowes!
---
If your web traffic is in search of the new pair of shoes their dad will use nonstop, then they needn't look any further than the Cole Haan affiliate program. The Cole Haan affiliate program grants your page readers access to the latest footwear trends made out high-quality and durable materials. Emblematic of Cole Haan's craftmanship and innovation is the Grand Plus Essex Wedge Oxford shoes. The Grand Plus Essex Wedge Oxford shoe combines the comfort of a sneaker and the aesthetic of a classic dress shoes capable of being paired with an elegant or casual outfit.
Enjoy up to 70% off sale styles, plus get an extra 25% off your purchase of 2 or more sale shoe styles! Offer valid 6/10-6/22.
---
By promoting the Vitacost.com affiliate program on your landing page, your site visitors will gain access to exclusive skincare and health products that will help dads look and feel their best. Vitacost offers a wide range of natural and effective skin products, like shaving cream, body lotion, face wash and beard shampoo, at prices that won't break the bank.
15% off Select Gifts For Dad! No promo code necessary!
---
Capitalize on these last-minute Father's Day savings through the FlexOffers.com network!