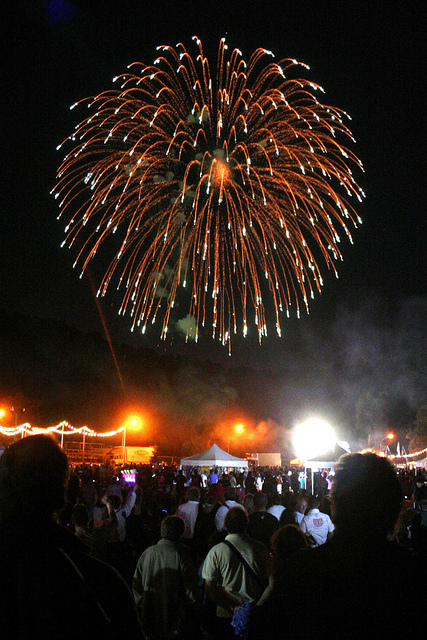 With Fourth of July celebrations only a few days away, there's little time left to take advantage of all the star-spangled savings retailers are proudly touting. Certainly outdoor cooking and surfside fun come to mind, but there are deals available for just about anything a reveler can use to show their national pride.
Load your website up with these promotions from FlexOffers.com before the fireworks take flight this July 4th!
---
---
Bash at the Beach
Many of your web patrons have been toning their physiques for months, and now is an excellent opportunity to show off their progress with fierce new fashions.
A favorite outlet among the young and sporty, the Finish Line affiliate program is where you go to get the latest in athletic shoes. What some recurring customers may not know is that FinishLine.com is also a haven for breezy apparel to help them beat the summer heat. In fact, you can get 15% OFF orders of $70 or more at Finishline.com with code FIREWORKS15 now through July 31st.
Specializing in quality merchandise for braving the waves and snowbanks alike, the Sun & Ski affiliate program is also a prime option for casual Independence Day outfits. Swimsuits, board shorts, and plenty of inflatable toys and floats can be obtained via this retailer, who is letting customers take $25 off purchases of $125 and up when they use Code: INDEPENDENCE14 during Sun & Ski's Independence Day Sale (valid 6/23/14-7/7/14, online only).
Parents wishing their children were back in school already will be pleased to know that they can start stocking up on clothing for the upcoming academic semester through the BeyondtheRack.com affiliate program. Featuring designer apparel and shoes for men, women, and kids, as well as trendy housewares, there's never a wrong time for your readers to shop Beyond the Rack– especially now as they can save up to 80% off retail with the invitation code: BACKTOSCHOOL13.
The Discounts are Coming! The Discounts are Coming!
Some of your audience members might opt for spending a quiet evening at home this Fourth of July, but the right travel rebate just might light a fire under them to get out and have fun.
Priceline.com is one of the leading travel planning sites in the industry, and they aren't pulling any punches with promotions this week. Those who make reservations on their platform through the Priceline affiliate program links on your page can save up to 50% off last-minute flights! Even if someone is only moderately interested in flying back home to celebrate with their family and friends, the cash they can save with this offer is excuse enough to surprise those they love.
Let Freedom Ring
Be sure to grab a hot dog or two, light some fireworks, and take advantage of these themed deals before they expire in a blaze of glory. Happy Fourth of July, everyone!