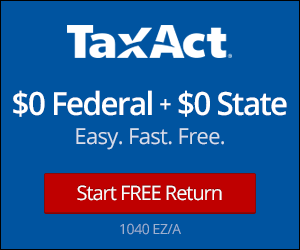 SURPRISE! The IRS has extended the deadline for your readers to file their federal tax returns to Monday, April 18th, giving you a few more days to market relevant advertisers on your website. Take advantage of your audience's mad scramble to get their paperwork submitted with these last-minute Tax Day 2016 deals from FlexOffers.com!
---
Even when it's coming down to the wire, there's no need to get frustrated when filing one's taxes through the TaxAct affiliate program. The advertiser offers step-by-step guidance and free email help as needed to guarantee a 100% accurate return.
TaxAct Premium Bundle Only $10. Includes Federal and State Returns. Limited Time Offer!
---
Tax Day is less taxing at efile.com. The site can help your page visitors calculate their potential tax return, determine if they should file a return in the first place, and find the status of their refund. Should any other questions come up, their clever team of Taxperts is ready to help.
---
No matter how your patrons file their taxes, H&R Block is there for them. Their website features a plethora of resources for individuals filing at multiple levels, from simple tax situations to small business owners and state return forms.
FREE Federal simple returns and State for ONLY $9.99
---
eSmart Tax
In addition to their range of tax filing solutions, eSmart Tax gives back to their customers and customers' friends just for choosing them. Referring a friend earns you $10, plus they receive 50% off their prep fees via a special code given to you to provide to them. Not bad at all!
File for FREE. Just enter code CJDIYFREE at FreeTax.com! 
---
Even the Deluxe Return at FreeTaxUSA.com is an incredible and affordable value. With features like Audit Assist, unlimited amended returns, and priority support via live chat, they can easily go toe-to-toe with competitors.
FreeTaxUSA. 100% Free Federal. $12.95 State. Direct IRS E-File
---
The desktop and wireless scanners available to order through The Neat Company affiliate program are exceptionally useful when organizing files to file one's tax return. They make it easy to get rid of cluttered shoeboxes overflowing with receipts while still raking in the deductions. Neat!
Free Shipping on orders over $100! Use Coupon Code FSNEAT
---
Lord & Taylor
The Lord & Taylor affiliate program is the perfect place to splurge those tax refund checks, particularly during the luxury department store's current Friends & Family sale. Your web traffic can save on designer fashions for women and men, shoes, beauty products, and a whole lot more for a limited time.
Spring Savings! Take 15% Off Regular-Priced and Sale Items with code LTLOVE. SHOP NOW! Valid 4/18 – 4/25
---
There's little time to waste; market these last-minute Tax Day 2016 deals available via the FlexOffers.com network today!