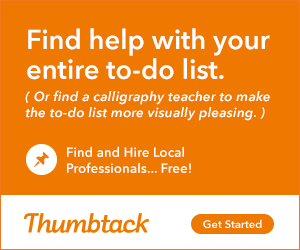 Amid attempting to meet a host of home and occupational demands, many Americans will inevitably opt to file their taxes just before the deadline. While putting off taxes until the eleventh hour is seemingly imminent for nine-to-fivers across the country, they can at least assuage their Tax Day anxieties through a myriad of financial and organizational tools at discount prices.
Help your site visitors confidently and comfortably beat the National Tax Day buzzer by promoting these last-minute Tax Day bargains on the FlexOffers network today!
---
Through the Thumbtack affiliate program, your page viewers can find experienced local professionals capable of facilitating the completion of a multitude of tasks. Whether your patrons are in need of labor for home repair and remodeling projects, services for wedding planning and events, or tutoring sessions in and outside of the realm of academia, chances are Thumbtack has a certified specialist available for hire in their area. Thumbtack also has a network of tax preparation services accompanied by profiles and reviews for each organization.
---
By promoting the H&R Block affiliate program on your site, taxpayers will be granted access to convenient filing solutions that enable them to save time and money. Renowned for its supreme service and expedience, H&R Block was rated No. 1 for online tax prep in 2019 by PC Editors' Choice, thanks to its intuitive design, security, and support settings constructed to help each client maximize their refund.
File Your Taxes for only $37.49 with H&R Block's Deluxe Online Tax Filing Product!
---
Filing taxes online should be a cinch but beating the Tax Day deadline while working with an intermittently functioning laptop is certainly suboptimal. Thankfully, Lenovo USA offers ThinkPad laptops, that feature 8th Gen H Series Intel® Core™ processors, that handle demanding computing tasks, and allows your readers to place their temperamental laptop in timeout or even in the dumpster if they so choose. Currently, at Lenovo USA, customers can receive 30 percent off most X or T series ThinkPad laptops with coupon code THINKTAXTIME.
30% off most X or T series ThinkPad laptops! Use code THINKTAXTIME
---
If the CPAs among your audience are in search of measures to boost their clientele, then you'll surely benefit from promoting the Vistaprint USA affiliate program on your page. Vistaprint USA assists proprietors with the promotion of their goods and services through marketing materials such as business cards, brochures, stickers, clothing, and more. Now at Vistaprint.com, business owners can save up to 20 percent off their first order and receive free shipping on orders of at least $50 and up.
20% Off Your First Order + Free Shipping on orders $50+
---
It's not uncommon for small business owners to become backlogged with bookkeeping responsibilities inherently associated with entrepreneurship. Fortunately, Intuit Small Business assists small business owners with ancillary tasks such as tracking income and expenses and organizing receipts throughout the year, which promotes ease for administrators and executives at the precipice of National Tax Day. For a limited time at QuickBooks.Intuit.com, business professionals can save up to 50 percent on QuickBooks Online to keep the accounting and bookkeeping for their Small Business up to date.
Save up to 50% on QuickBooks Online! Keep the Accounting and Book Keeping for your Small Business up to date!
---
Receiving a substantial tax return is exciting but unearthing services that prolong the life of a befitting return can be life-changing. By marketing the TRIM affiliate program, your web traffic will be privy to automated savings that allows them to make the most of their money. With a free TRIM subscription, consumers can rest assured that they'll never have to avoidably pay full price for recurring bills, as this financial management device safely and securely analyzes costs and negotiates lower prices on their behalf.
Don't Pay Full Price; Let TRIM Lower Your Bill!
---
Market these last-minute Tax Day bargains on your landing page via FlexOffers.com today!