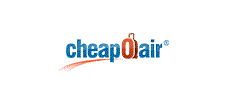 Labor Day. Parents look forward to it, teachers dread it, and for school children, it marks the end of a three-month dream. Your patrons who are planning one last adventure during Labor Day weekend have the ability to do so, affordably, via the CheapOAir.com affiliate program at FlexOffers.com. Our team has gathered some of the advertiser's most enticing discounts below; see which one of these gems would shine the brightest on your homepage.
---

Jump for a GREAT Summer Stay! Save up to $10 on Hotels with Code HOTEL10 BOOK NOW
Save up to $12 on CheapOair's Top 25 Deals with a Special Code – Click Here!
---
If your readers are going to be retreating back to the soon-to-be unbearable cold of the Northeast or Midwest United States after Labor Day, a tropical getaway is a trip worth remembering. Through CheapOAir.com, customers can purchase boarding passes to some of the most beautiful islands in the Caribbean nestled in the turquoise sea. Before closing their browser window, one can also make lodging arrangements and reserve a vehicle to scoot about the island at their leisure. The hustle and bustle of the real world is right around the corner. Via CheapOAir.com, though, you can take your vacation a little slow.
---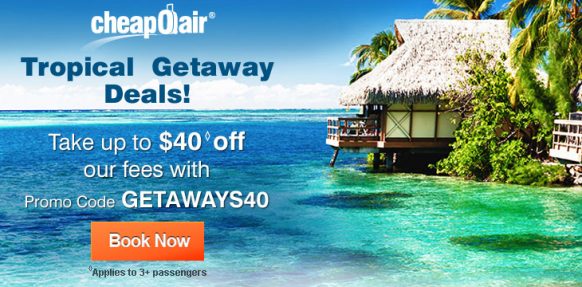 See the best flights deals in your area and save big at CheapOair.com!
Exclusive Car Deals! Take Up To $10? Off Our Fees With Book Now!
Tropical Getaway Deals! Take up to $40—Š off our fees with Promo Code GETAWAYS40 Book Now!
---
Couples with a few kids in tow may not be able to enjoy the idyllic environment of the islands while scrambling to find extra juice boxes for the little ones, so maybe it's best to keep them engaged. CheapOAir.com can help families in that regard too.
Thrill-seeking families may find it suitable to visit famous rollercoaster parks in cities like Tampa, Ohio, or Georgia. Groups who don't want to split up at rollercoasters because members of their party don't meet height restrictions might find the water parks in Orlando, Kansas, and San Dimas (San Dimas High School football rules!) more appropriate. Regardless of where they opt to go, your web traffic can fly and stay there for less when they make their accommodations at CheapOAir.com.
---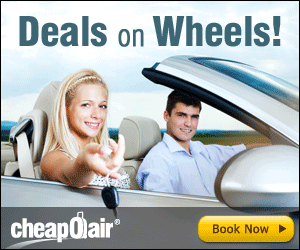 ---
Summer's not over just yet, so make the most of these and other incredible travel deals from the CheapOAir.com affiliate program today on the FlexOffers.com network!