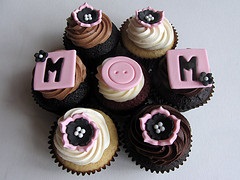 Mother's Day is THIS Sunday, May 11th, so any of your page visitors who have yet to order a present for their mom should do so as soon as possible. Similarly, if you haven't already done so, now is the time to take advantage of consumers scrambling for thoughtful tokens of appreciation to present the women that continue to teach them invaluable life lessons to this day.
Take a look at these deals on memorable last minute Mother's Day gifts that can be purchased today via FlexOffers.com!
---
---
Comfortable and Casual
Many families make it a priority to ensure mom is exceptionally relaxed on her special day, so why not give them a few stylish shopping options?
The epicenter for affordable Americana, Kmart is a great source for trendy housewares, portable electronics, furniture, and clothing ideal for mom during a laid-back afternoon meal with her loving family. As such, the Kmart affiliate program is offering an extra 15% off $69 in women's clothing, sleepwear & accessories with code JUST4MOM plus an extra 5% off with FREE store pickup. The Sears affiliate program is also a smart option for Mother's Day dresses and more, as they're promoting 50% off women's fashions & 40% off accessories + extra 15% off with code MOM15 plus free store pickup. This retailer's online inventory is also ripe with tools for repairing aesthetics in and around the home, so updating the look of a living space is easier than ever before.
For beauty products to help mothers feel extra luxurious, consumers should consider browsing and buying from the FragranceNet.com affiliate program. Many of the most popular designer perfumes on the market can be bought through their storefront, in addition to aromatherapy products, candles, and gift sets. FragranceNet.com is also currently offering 15% off all orders, so finds on their site are that much more enticing.
Beauty from Within
While it's easy to adorn mothers with elegant items that are visually appealing, helping them feel confident and loved is a gift they'll cherish for years to come.
Through the Vitamin World affiliate program, well-wishers will be able to find a multitude of vitamins and supplements to help boost mom's energy, immune levels, and reach an overall better state of health. VitaminWorld.com also stocks skin care, hair care, and nail care goods, which can be purchased for less during their Friends & Family sale (30% off sitewide + free shipping, no code necessary).
Athletically-inclined families will likely consider it easy to find footwear to help everyone at home get in shape via the Road Runner Sports affiliate program. One of the world's largest running and walking stores, customers on RoadRunnerSports.com can save 20% on all shoes listed online during their Premier Shoe Event and receive free shipping when they use code CX14M351 (expires 5/19 at midnight). This is a great excuse to pick up a few pairs of cross trainers or trail running shoes to aid in traversing the path to a slimmer and more agile self.
Early Father's Day Finds
If your audience members don't want to go through the trouble of forgetting to find a Father's Day gift in time for next month, why not send something incredible to dad at the same time you're being generous to mom? Bills Khakis sells rugged and trendy apparel for men made to endure rigorous wear. Focused on cut, quality, consistency, and authenticity, fathers far and wide will proudly wear a pair of pants or a polo from BillsKhakis.com, especially knowing they were available at 10% off with the code BK10.
Don't hesitate a moment longer; there are plenty of enticing Mother's Day deals like these and more to promote at FlexOffers.com!