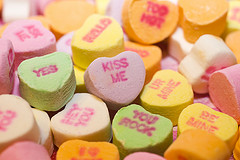 Even after telling themselves they wouldn't do it again, your audience members once again find they are sans gift for their significant other just days before Valentine's Day. While some shoppers might have had the foresight to buy gifts a week ago if not longer, there are still the struggling few in dire need of last minute Valentine's Day ideas.
To help both your site visitors in need and your bottom line, there's no time to waste to promote these sweet Valentine's Day deals live on FlexOffers.com!
---
---
Steadfast Starters
While some people may object to receiving a few standard gifts come Valentine's Day, giving ONLY these items and nothing insightful might be closer to the truth. Still though, it's a great starting point.
Anyone nearly down to the wire without having already ordered flowers for Friday can benefit from the beautiful gifts sold through the 1-800-FLOWERS.COM affiliate program. Until 2/13/14, customers can save 15% on Valentine's Day flowers & gifts at 1800flowers.com when they use promo code: VDAY2014 at checkout. You can't go wrong with a bouquet of roses or a cuddly teddy bear sent with artisan sweets to a significant others' place of work, and bountiful baskets full of meats and cheeses are also stocked as a savory option. Flowers and chocolates and bears? Oh my, indeed.
Flowers can last for a few weeks, chocolates can last a few minutes, but diamonds- those are forever. Directing your web traffic to MyJewelryBox.com gives them the ability to find timely discounts on diamond jewelry sure to leave recipients breathless. This Valentine's Day, they can save 20% on the latest styles of rings, earrings, necklaces, bracelets, diamond jewelry and more at MyJewelryBox.com when they use coupon code: VDAY2014. Gemstone necklaces, tennis bracelets, and other shimmering accessories are available to suit different tastes and budgets on their site.
Unconventional Gift Options
The roses have been sent, dinner reservations have been made, but now it's time to give a gift that shows real thought was used in its selection- ideally something that is both practical and pleasing to the eye.
Nothing is quite as universally appreciated as a comfortable pair of fashionable footwear. Known for their alpargata-inspired Classics collection, TOMS Shoes sells unbelievably comfortable shoes for women and men. Both casual and classy designs can be purchased, and customers can now receive free shipping on TOMS shoes and eyewear! Also helpful for individuals who aren't sure of what shoe size to select for their loved one- a sleek set of sunglasses from TOMS.com is a gift that can be worn again and again for years to come.
A less subtle but equally appreciated gift option, the right pair of underwear for Valentine's Day can certainly set the mood. The Freshpair.com affiliate program gives women and men plenty of choices for both themselves and their partner come Valentine's Day with shapewear, activewear, and stylish undergarments. Those that shop Freshpair.com now can get $10 off $60 orders, $20 off $100 orders, & $50 off $200 orders with code LOVE14 (standard exclusions apply). Many of the industry's top name brands have been curated in this storefront, so everyone can find something they're sure to love.
Extended Bliss
Although certain folks may go over a pre-set budget with their generosity on Valentine's Day, there are many ways to recoup those savings. One such fiscally frugal method of bringing one's bank account back from the brink of death after February 14th is to purchase an Entertainment Book from the Entertainment.com affiliate program. The site is holding a Valentine's Day Sale from 2/10/2014 – 2/12/2014 granting 40% Off (Additional books only $14) + FREE shipping only at Entertainment.com. One might find various value coupons for dining and attractions on Valentine's Day, as well as suitable discounts for establishments in and around their local are lasting throughout the year.
Hop to It!
Just as your forgetful site visitors may have waited until the last moment to order the optimal gifts for Valentine's Day, you too may be kicking yourself for missing out on this incredibly profitable promotional period. Make the arrangements on your site to promote these Valentine's Day deals and more from FlexOffers.com!