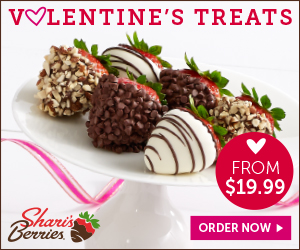 Valentine's Day is right around the corner, which means your web patrons are already in the process of planning grand romantic gestures for their mates and potential partners. Retailers across the globe are aware of how far people will go to show how much they care, and as such are offering incredible values on mainstay gifts to mark the occasion.
Shoppers will be smitten with these Valentine's Day bargains now available at FlexOffers.com!
---
Diamond jewelry can make for a memorable Valentine's Day gift, and some of the best pieces in the industry can be purchased at Kay Jewelers. For a bit more personality and affordability, shoppers at Kay.com may also be inclined to purchase personalized jewelry faceted with other precious stones, such as rubies or sapphires.
Online Only! Save up to 40% on Select Valentine's Day Jewelry
---
Even in the dead of winter, a beautiful bouquet of roses ordered from 1-800-FLOWERS.CA has the ability to heat things up. Rather than picking up a bunch of roadside roses on the way home, sending a floral gift from this retailer shows that a bit of love and foresight was used.
Valentine's Day Sale! Save 20% off on ALL orders only at 1800flowers.ca! Use promo code VDAY20 at checkout (Valid 1/25 @ 12:01am EST – 2/14 @ 11:59pm EST)
---
Nothing can score brownie points on Valentine's Day more than actual brownies, and some of the best gourmet baked goods sold on the web can be bought at Cheryls.com. They even offer gluten-free varieties of some of their baked treats if a recipient is still trying to keep their New Year's resolution alive.
Enjoy Valentine's Day! Save 15% Off Sitewide and Share Delicious Cookies, Brownies, Cakes and More at Cheryls.Com!
---
Fresh and deliciously decadent, an order of chocolate-covered strawberries from Shari's Berries are a truly special Valentine's Day treat. Served alongside champagne or delivered right to a loved one's office, these artisan delicacies are sure to make a positive impression.
Valentine's Day Strawberries & Gifts from only $19.99
---
In addition to purchasing presents for other people on Valentine's Day, being thoughtful enough to buy a treat or two for someone's pet is a great way to their heart. BarkBox.com's subscription-based dog boutique shop can deliver the perfect affordable box of presents to a pup this and every month.
BarkShop: Your pup's favorite online dog boutique. Shop curated collections of Toys, Treats, Chews and Accessories and enjoy Free Shipping on orders over $35 at BarkShop.com!
---
There is a very special sect of society that would be more thrilled by receiving a Dr. Who or Firefly bracelet charm than a diamond necklace come Valentine's Day. For those lovers of comic books, video games, movies, and pop culture, ThinkGeek is the ultimate destination for gifts that will definitely be appreciated.
---
You'll love these and other enticing Valentine's Day promotions available via the FlexOffers.com network; market them on your site today!