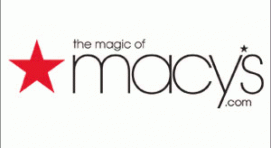 After a successful holiday season, high-end retailer Macy's is building upon positive momentum from shoppers with more sales and specials early in 2013. Last year not only saw Macy's engaging new customers on the Internet, it also saw those interactions equate to over $2 billion dollars in online sales. With numbers like those, it's a good a time as any to keep pressing forward with the values to which customers have increasingly grown accustomed.
Visitors of your site with gift cards to spend, especially bargain hunters who know to jump on great deals as soon as they see them, will love the clearance items and new product lines already making their way to Macy's online storefront.
---
Cleaning Up After Christmas
Knowing when to shop for great bargains on quality items is nearly as important as knowing where to shop in the first place. Millions of consumers made purchases in the months leading up to the 2012 holiday season for themselves and for their loved ones, but some of the best annual bargains also traditionally begin at the start of the new year. So long as your site visitors don't mind being a few weeks behind the fashion curve, they can experience last year's hot looks at this year's drastic discounts.
It's still unbearably cold across a large portion of the North, so bargains on winter clothes to bundle up remain ridiculously enticing. Some of the best sales include savings for men of 25-50% + Extra Savings Off Men's Hats, Gloves, & Scarves With Promo Code: WKND, 50-75% on Select Women's coats, and even 65% Off Select Designer Outerwear by Tommy Hilfiger, Lauren by Ralph Lauren, and Calvin Klein.
Making Up for Miscalculations
Macy's also makes it easy for those who need to compensate for poor or rather embarrassing gift selections this past holiday season. Scores of shoppers will greatly benefit from 50% off select Fine Jewelry, a Designer Dresswear Sale with savings of 60% off, and a selection of kate spade new york women's watches. It might be too late to wrap up the perfect winter gift, but it's never too late to start making up for your mistake.
A Bright New Year
By promoting these early 2013 bargains available from the Macys.com affiliate program, you will essentially be converting your site into a portal for one of the most beloved and enduring retail outlets in all of pop culture. In the tradition of over a century of superb customer service, Macy's online presence continues to make the store's diverse inventory of appealing upscale items available to a much wider audience base. To include your audience among legions of satisfied Macy's customers, its best to promote these winter bargains before the thaw sets in.