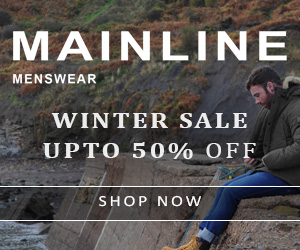 Thanks to the Mainline Menswear UK fall markdowns available to promote on your site through FlexOffers.com, your readers won't have to wear the same lame sweaters they're used to year after year. In fact, at these prices, even the most budget-conscious shoppers can dress in designer wares with others being none the wiser.
---
FlexOffers.com Exclusive: 10% Off at Mainline Menswear UK with Code: FLEX10
FlexOffers.com Exclusive: Free Delivery at Mainline Menswear UK with Code: FLEXDEL- Valid Only thru 11/13
Up to 50% Off Jackets at Mainline Menswear!
---
While many men can get through their days wearing just a few pairs of jeans and a handful of tops, the look loses its charm rather quickly. At mainlinemenswear.co.uk, guys can gussy-up their wardrobe with garments from the brands they already know and love.
Winter apparel with a contemporary appeal is a premium commodity this time a year, and the selection available from Mainline Menswear UK does not disappoint. They've options in stock from Armani to Versace that trendsetters will instantly adore, as will the onlookers admiring their style.
---
Get $75 OFF* Your Women's Contemporary Clothing Purchase of $250 or more. Use code CNTEMP17. Valid 8/24 – 8/26. Online & In-Stores. Shop Now!
25% OFF* Selections of Exclusive Saks Menswear. Valid 8/27 – 9/4. Online & In Stores. Shop Now!
Online Only! Get $50 OFF* Your Purchase of $250 or more. Use code SPENDMORE. Valid 8/28 – 8/30. Shop Now!
---
Underneath it all, guys don't want to get caught wearing drab drawers either. The Mainline Menswear UK affiliate program can also hook them up in that regard, boasting an array of undergarments from Hugo Boss, Lacoste, Calvin Klein, and other designer labels.
This retailer also sells fashionable accessories that your patrons can incorporate into their existing clothing rotations to switch things up a bit. A sleek pair of sunglasses or a matching set of knitted gloves, a cap, and a scarf can alter the appearance of a familiar ensemble into something new and amazing. Mainline Menswear UK also stocks a number of patterned woven silk ties, should upscale social events call for them this season.
---
---
Help your site visitors look good for less this fall by promoting these Mainline Menswear UK affiliate program promos on your site via the FlexOffers.com network today!