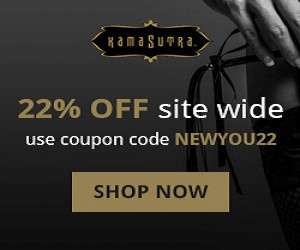 While your patron's sole intent may very well be to consistently bring their significant other joy, it's possible they could be lacking the requisite counsel and/or merchandise to ensure their partners' unbridled satisfaction. Fortunately, the KamaSutra affiliate program offers bath and body essentials capable of helping couples relax, reconnect, and make love better this Valentine's Day.
Don't miss your chance to promote these KamaSutra offerings at FlexOffers.com today!
---
Take $25 off your $100 order – use code GET25
Take 22% Off Your Order – Use Code NEWYOU22
Get 20% Off Ignite Massage Oil Candle – Use Code candle20
---
With Valentine's Day rapidly approaching, your site visitors will undoubtedly be in search of items that make them look and feel great. Whether your readers' goal is to achieve irresistibly smooth skin or procure products they can enjoy with their better half, they're guaranteed to find solutions that bring them closer to their Valentine's Day fantasies while perusing KamaSutra.com's massive inventory. Shoppers who desire to be draped in fragrances unique to their olfactive inclination needn't look any further than KamaSutra's Aromatics massage oils made from skin nourishing Vitamin E emollient, which moisturizes and hydrates the skin for a silky-smooth feel. Use in tandem with KamaSutra's Caress shave cream comprised of aloe vera, jojoba seed oil, and avocado oil to leave skin sumptuously soft, whilst minimizing the potential of skin irritation. KamaSutra's shave cream is available in Sweet Honeysuckle, Passionate Pomegranate, and Coconut Pineapple to aid men and women across the country in their quest to realize deliciously appetizing skin for their Valentine's Day endeavors and beyond.
Even the most cost-conscious consumers among your audience will happily overextend themselves just to see a smile on their spouse's face on Valentine's Day but with savings through the KamaSutra affiliate program, they'll no longer have to. Currently, at KamaSutra.com, your page viewers can receive up to 20 percent off Ignite massage oil candles by using coupon code candle20 upon checkout. Ignite massage oil candles are wax-free and burn at low temperatures which, eliminate the possibility of skin injury, while delivering six incredible perfumes that permit each customer to ignite their passion and escape to paradise.
---
10% Off Your Purchase – Use Code TAKE10
Get 20% Off Aromatic Massage Oil – Use Code massage20
Get 20% Off Treasures of the Sea Bath Salts – Use Code bathsalt20
---
KamaSutra's oils are renowned for its luxurious formulas that not only beautify its customers' skin but serves as a conduit to making the world a better place. Since its inception in 1969 KamaSutra's primary objective has been to be the very antithesis of disharmony by assisting others in the creation of joyful experiences in love. More than 45-years later, couples around the globe are still benefiting from KamaSutra's goods and services that facilitate happier and healthier relationships. Thanks to its willingness to constantly refine existing products and develop new ones to diversify revenue streams, KamaSutra has seen considerable growth since its humble start as a specialty shop in the '60s and '70s.
KamaSutra is now sold in over 50 countries and the brand continues to thrive as a result of its supreme merchandise and bargains. Emblematic of KamaSutra's superior inventory is its Treasures of the Sea bath salts, now available for 20 percent off the regular price. The iconic Treasures of the Sea bath salts is among KamaSutra's best selling items and it continues to advance the organization's percolating popularity due to its ability to transform an ordinary bath into a calmative oasis of tropical blue water. No matter what's in the cards for your web traffic this Valentine's day, It would behoove them to shop at KamaSutra.com as their supplies span a variety of interests that provide guidance and encouragement in their mission to make love better.
---

---
Be sure to take advantage of these wonderful offers from KamaSutra in the FlexOffers.com network!