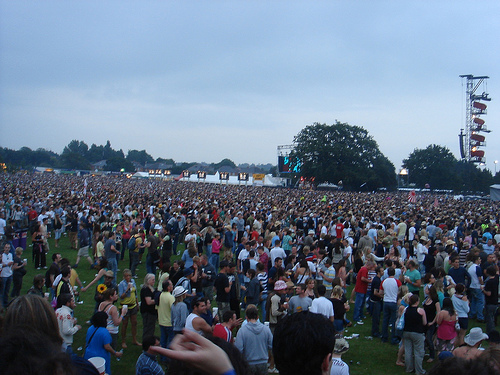 Further adding to the popularity and ease of promoting credit cards with touchless transaction functionality, MasterCard® distributed 13,000 PayPassTM wristbands to ticket holders at the Isle of Wight Festival at Seaclose Park, Newport from June 21-24th. Tags attached to the wristbands eliminated the need for fumbling with cash for the trial group, making purchases of £20 ($31.106 USD) or less and restoring credits on the bands themselves a faster process.
---
Facilitating Funds
The MasterCard® PayPassTM wristbands at this year's Isle of Wight Festival used Radio Frequency Identification technology to transfer data from the attached tags to contactless readers installed in many of the retail locations located throughout the festival. By simply tapping the tags onto the readers, purchases of £20 or less were automatically deducted from the bands, whose maximum total loads throughout the festival could not exceed £500.
When running low on funds or after an auto top-up, concertgoers with wristbands received a text message with their remaining balance. The wristbands' auto top-up feature added between £10 – £50 if funds dropped below £20. Those with dead cell phones after days of camping out could also verify their balance by tapping the bands on mobile balance readers at customer service points.
This seamless purchasing process at the Isle of Wight Festival doesn't just indicate the continuing trend of touchless transactions, it points to its importance for promoters in the affiliate marketing industry.
Handling the Hands Off Process
One of the most potentially beneficial aspects to note of the MasterCard® PayPassTM wristbands at this year's Isle of Wight Festival is its success as an alternate to carrying around cash. Considering that cards and devices with PayPassTM have been issued to nearly 560,000 merchant locations in 41 countries worldwide, the implementation of the technology at such a populated event is a sign of its acceptance among trendy cardholders both young and young at heart.
Said Marion King, President of MasterCard® UK and Ireland: "This year's trial is the latest milestone in the journey towards a truly 'cashless' environment, as festival goers look to spend less time queuing and more time enjoying their favourite bands." Who wouldn't rather spend more time listening to incredible bands at an event rather than waiting in line to pay for food and drinks? More importantly still, what affiliate marketer wouldn't love to promote credit cards using similar technology and benefits to an audience of millions who might attend similar events worldwide?
The Future of Daily Finances?
Touchless technologies such as the MasterCard® PayPassTM eliminate the need and possible security risks of consumers providing a PIN or signature at a point of purchase, making it an increasingly attractive alternative for cardholders. Taking full advantage of this insight and promoting credit cards with similar innovative functionality as PayPassTM could certainly create positive momentum on a website, so long as publishers choose not to pass on the idea themselves.