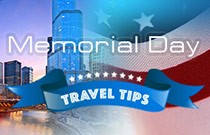 Memorial Day marks the unofficial start of summer, which means that groups of friends and families everywhere are in the market for fun trips to take in the coming months. We've got loads of travel deals on the FlexOffers.com network, and have conveniently gathered a few of the best below to market on your website before it's too late. Take a look!
---
InterContinental Hotels Group


No strangers to the summer travel rush, InterContinental Hotels Group properties can accommodate guests of various budgets while retaining the same impressive levels of service they're known for across the board. Those bringing their little ones along for will be pleased with all of the kid-friendly activities and discounts currently available from this advertiser.
Enjoy a holiday with the family and save! Kids stay and eat free at Holiday Inn hotels.
CheapOair.ca


While Memorial Day is a federally recognized holiday in the United States, the savings extend to consumers in other countries too. The CheapOair.ca affiliate program is a great travel option for expatriates in Canada, as well as anyone who wishes to join in all the festivities this weekend has to offer.
Fly to Top Beach Destinations! Get up to C$15 off with Promo Code BEACHCA15
CheapOair.co.uk


Your web patrons will be able to travel the world for less this Memorial Day if they book their holiday through the CheapOair.co.uk affiliate program. This advertiser provides optimum values for those living in the UK wishing to experience the great escapes of the world, from idyllic island getaways to tranquil mountain villas and beyond.
Book a Tropical Getaway! Save up to £40 with Promo Code GETAWAYS40. Book Now!
Puritan's Pride


Aside from their towel and a comfortable pair of flip flops, your site visitors will want to be sure they have plenty of sunscreen to keep their skin protected while lounging on the shore. Puritan's Pride makes available healthy choices for healthy living, including paraben-free oils and lotions that are 100% vegetarian and just as good if not better than a synthetic alternative.
Memorial Day Only! FREE Shipping on ANY order! Code: MEMSHIP. Ends 5/25 11:59 PM PST.
Sprint


Half the fun of going on an exciting trip this Memorial Day is being able to take tons of pictures in exotic locales and posting them on social media for all your friends to see. Those members of your audience who want to playfully tease others with their own incredible adventures should do so on a smartphone from Sprint, which offers some of the best monthly plan values in the industry.
NEW Samsung Galaxy S6 FREE with Sprint's $80 Unlimited Plus Plan – UNLIMITED TALK AND TEXT with 24-month lease! (Valid thru 6/11/15)

There's no time to waste if you want to make the most of these Memorial Day deals from FlexOffers.com; market them on your landing page today!