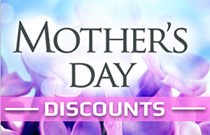 Mother's Day is Sunday, May 10th, which means your web visitors have little over a week to find the perfect gift for dear ol' mom this year. This presents an excellent opportunity to promote appropriate deals on your website that are sure to warrant more attention than the youngest sibling receives until the next addition to the family arrives.
Help your patrons show mom she's loved with these deals from FlexOffers.com!
---
---
Avon


One of the premiere names in beauty products, Avon has been a hit source for Mother's Day presents for decades. Jewelry sets, cooking accessories, and pleasantly fragrant moisturizing creams can all be bought through this storefront.
Last week to receive orders by Mother's Day + FREE Watch with your $60 purchase Use Code: FORMOM. Valid 4/27-5/1
Teavana.com


With everything she does for the family on a daily basis, Mother's Day is certainly a time when mom can expect to enjoy some peace and quiet. To help her reach this tranquil state, consider purchasing a few soothing loose leaf tea blends from Teavana.com.
Make Her Day Every Day – Shop Mother's Day Gifts for Every Mom at Teavana.com
Market America Brands SHOP.COM/Motives Cosmetics/Isotonix


In addition to cosmetics, this affiliate program also stocks handbags, jewelry, and other thoughtful trinkets that can still be ordered in time for Mother's Day. As affordable as their inventory is, selecting which items to order is likely the only troublesome aspect one will encounter on their website.
Pamper MOM with an at home Spa Day for two with Lumiere de View Volcanic Exfoliating Mask + $5 Flat Rate Shipping. Buy Now! (Valid thru May 8)
Spa and Wellness Gift Card


As magical as a day relaxing at home could potentially be on Mother's Day, the very real possibility of having to still clean up after the rest of the family and listen to them shout can dampen the whole experience. By giving mom a gift card to enjoy a local spa treatment, she'll be able to recharge her batteries without having to worry about the little ones. Leave them to the spouse or babysitter.
15% Off Plus Free Shipping for Mother's Day. Use Code: mom15fs at Checkout
 FTD.com

Neither snow nor rain nor impending zombie apocalypse should stop your readers from ordering flowers for their mum on Mother's Day. Lush plants, colorful arrangements, and even gourmet delicacies can be obtained through FTD.com.
Save 20% Sitewide at FTD! Order flowers and gifts for Mother's Day!
Hallmark eCards


Even with chocolates, jewelry, and flowers, Mother's Day isn't complete without a heartfelt message on a Hallmark card. Hallmark eCards combine the thoughtfulness of a standard paper card with the convenience of modern digital media. Sending one couldn't be easier (or more affordable), so there's no excuse!
Send the Perfect Message to the Special Woman in Your Life this Mother's Day with Hallmark eCards!
Promote these and other endearing Mother's Day offers via the FlexOffers.com network today!