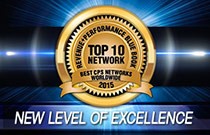 After ranking 13th in our first mThink Blue Book survey last year, we are pleased to announce that FlexOffers.com has ascended to eighth place in 2015!
Cracking the top ten in the Revenue+Performance Top 20 Affiliate (CPS) Network survey was no easy feat, as our growing team has worked tirelessly to improve upon every aspect of our network. We aspired to exceed the expectations of our hard-working publishers and loyal advertisers through stellar customer support, 24/7 tech monitoring and maintenance, and continuous rollouts of new features to improve platform functionality. Judging from our jump up five spots as compared to last year's Blue Book survey, we've made considerable progress.
---
FlexOffers.com, Inc. would like to thank our advertisers and publishers for their support in our endeavors, as well as mThink for the humbling recognition received again this year. Being identified as a CPS network that brands, merchants, and agencies should be working with is an incredible vote of confidence.
There are numerous improvements for FlexOffers.com in 2015 that are already in the works. Aside from upgraded interfaces, new web services and detailed reporting processes are well into development. Our goal is to ensure that anyone can navigate our network with ease and quickly find the data they need as soon as they need it.
As the affiliate marketing industry evolves, FlexOffers.com will continue to grow and remain a top-tier network that you can rely upon. Flexibility is the key to affiliate success, and we're proving it once again.