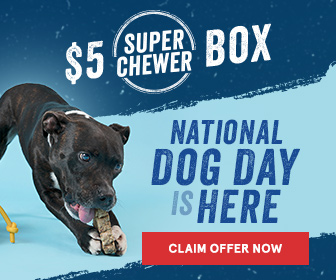 With the dog days of summer behind us and National Dog Day taking place this Sunday, August 26th, now's the perfect time to fetch a few new affiliate links to promote on your website.
Make the most of these enticing National Dog Day 2018 rebates available on the FlexOffers.com network today!
---
If your readers have ever lost a pair of sneakers or an entire couch to their dog's insatiable chewing habits, then the Super Chewer subscription box is just what they need. Curated by BarkBox, who knows a thing or two about taking care of puppy needs, each monthly delivery includes two tough fluff-free toys, two bags of treats, and two all-natural meaty chews to keep pets happy and healthy.
8.22 National Dog Day $5 First Super Chewer Box
---
Any of your audience members who can't get a wink of sleep due to their dog's endless barking will want to order the innovative training devices available through the Good Life® Bark Control affiliate program. Their weatherproof Bark Control Birdhouse, for example, can be set outside humanely curb barking up to 50 feet away – perfect for keeping the neighbor's dog in check.
Help Your Dog Stay Calm When Traveling With The ThunderShirt Sport Anxiety Wrap!
---
Pet owners know that Petco.com is the place to go for name-brand dog food and accessories, but did you know they're also a haven for fun puppy fashions? NFL fans who want their furry companions to get in on the tailgating action any given Sunday this season can find officially licensed jerseys stocked here, as well as collars, toys, and other products featuring their favorite team's logo.
---
Should your site visitors plan on traveling to visit family this fall, they'll want to order one of Petsuppliesly's carriers or safety harnesses to make the journey easier on everyone. This storefront also sells automatic feeders (among other everyday dog essentials) that can keep pets fed when their owners decide to go on spontaneous weekend getaways.
Extra 15% Off – All Summer Collection – petsuppliesly.com – Shop Now
---
As their incredible URL suggests, dog.com features practically everything that puppy parents need to ensure their four-legged friends are well taken care of. Customers can also buy customizable ID tags here in a variety of vibrant designs, which will become invaluable when identifying a dog in the unfortunate case that it happens to run away from home.
Save Up to 30% Off at Dog.com!
---
Whether living in the backyard or sleeping indoors each night, fleas and ticks are a real problem that plague pooches of all breeds and sizes. At petcarerx.com, your patrons will find high-quality flea and tick treatments at prices that are far more affordable than what their vet may quote them, plus heartworm pills and other medications to grant their dogs long and fulfilling lives for years to come.
Save an Extra 20% Off Flea and Tick Prevention by Frontline, Advantage, Revolution at Petcarerx! Use Code: EXTRA20
---
If the sales on your landing pages have been ruff as of late, turn things around and capitalize on these National Dog Day 2018 rebates now at FlexOffers.com!