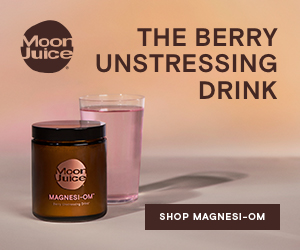 National food day was designed to encourage the masses to develop better eating habits and indulge in an abundance of fruits, vegetables, whole grains, and healthy proteins. Help the wellness seekers among your audience cut back on sugary beverages and entree's teeming with harmful sums of sodium by promoting these National Food Day bargains now available on the FlexOffers network!
---
Through the Moon Juice affiliate program, your page viewers can experience the benefits of intelligent self-care and plant medicine that addresses a bevy of health concerns. Representative of its undeniable health advantages is its Magnesi-Om Berry Unstressing Drink comprised of active ingredients Magnesium, L-theanine, which facilitates relaxation and supports improved brain function.
Gift Cosmic! Save Up To 30% On Holiday Sets!
---
If your site visitors are interested in diving into the world of clean eating this World Food Day and beyond, then you'll certainly want to promote the Sakara Life affiliate program on your landing page. Sakara life allows its subscribers to realize the power of food as medicine as its chef-crafted meals have been known to improve digestion, reduce bloating, and increase focus and energy. Sakara Life offers nationwide delivery directly to its subscribers' front door and permits them to purchase life-changing nutrition for $50 off their first organic nutrition program with coupon code FIRST50.
Experience the Life-Changing Power of Food as Medicine. Receive $50 Off Your First Organic Nutrition Program Today with Code FIRST50
---
It's not uncommon for members of the workforce to become preoccupied with daily tasks, and as a result, many nine-to-fivers subscribe to a multitude of poor eating habits. With Soylent, your web traffic can now subscribe to complete meal supplements carefully constructed with soy proteins to keep them feeling full throughout the day. The fats in Soylent are equipped to fill any food void modern-day workers will inevitably encounter, at a discounted rate.
Subscribe and Save 10% with Soylent Bundles! Shop Now!
---
Finding tasty, yet nutritious snacks for kids is a monumental task for parents. Thankfully, Orgain's Organic Kids O-Bars provides a whole grain snack that's every bit as delicious to kids, as it is wholesome in the eyes of mom and dad. Organic Kids O-Bars contain less than 40%-50% less than leading wholegrain bars. At Orgain.com, those in search of snaking alternatives can choose between chocolate chip, peanut butter, and chocolate brownie Organic Kids O-Bars to gift their children with the MVP of healthy snacks.
Get 15% Off Orders Over $200 with Code SCARYFISH15. Exclusions Apply. Offer Valid October 1-31, 2019.
---
While National Food Day was developed with humans in mind, pet parents will assuredly desire to improve their best friend's diet as well, and through the Grocery Pup affiliate program, they'll be able to do exactly that. Grocery Pup sells sous-vide, human-grade dog food that assists dog owners in extending the life of their pet at prices the most budget-conscious consumer can appreciate. Currently, at GroceryPup.com, shoppers can receive 15% off a la carte products with coupon code SAMPLER15.
15% Off A La Carte products with code SAMPLER15 at Grocery Pup!
---
Capitalize on these National Food Day bargains now available on your landing page via FlexOffers.com today!