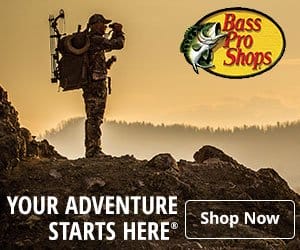 Hunters and anglers play a large role in promoting wildlife conservation and outdoor sports. Now outdoorsmen can continue raising awareness about the importance of natural resources when they exchange their old hunting and fishing tools for new ones at an affordable rate. Help your page viewers continue protecting and improving a variety of habitats by promoting these National Hunting and Fishing Day discounts now available on the FlexOffers network today!
---
In many states across the U.S. deer season is in full swing, which means many of your site visitors will be in search of hunting clothing that helps them successfully blend in with their environment. At BassPro.com, potential purchasers can find insulated waterproof tops and bottoms equipped with adjustable drawcords that deliver comfort, and coverage during the fall and winter months.
Save on outdoor gear during National Hunting and Fishing Day at BassPro.com
---
If your future vacationers enjoy fishing on the water or hunting excursions through the woods, they'll assuredly find lodging through the InterContinental Hotels Group to support their outdoor endeavors. Emblematic of its willingness to accommodate fishers and hunters are its Holiday Inn Express & Suites Zapata location, teeming with world-class bass fishing and deer hunting throughout Zapata County, Texas.
The InterContinental Hotels & Resorts fantastic escapes allow every member of your family to enjoy the finest service, a beautiful location to explore and a variety of activities from which to choose.
---
It's not uncommon for the adventurers to desire oneness with Mother Nature and through the CampGear.com affiliate program, they can purchase products to help them achieve their dream. At CampGear.com, nature lovers can browse backpacking tents and cabin tents that afford them the necessary space and time to connect with the great outdoors. Regardless of climate or size of tent needed for an upcoming expedition, CampGear.com possesses tents from reputable brands to suit a myriad of camping objectives.
Unplug From Your Tech And Get Outside With CampGear.com > Shop Tents, Hammocks, Packs and More!
---
While everyone can't be a true outdoorsman, it's perfectly acceptable to fake it until you make it, and Nordstrom.com allows fashionistas to do so in style. By promoting the Nordstrom.com affiliate program, your web traffic will be privy to a collection of plaid wool hunting jackets by SMYTHE. SMYTHE hunting jackets are designed with an equestrian-inspired silhouette in mind and comprised of 100% wool with leather trim to keep fashion gurus warm this fall and beyond.
Shop Nordstrom for fall's coziest plaid coats. FREE shipping, pick up in-store and more.
---
Traversing rough terrain is commonly associated with hunting and fishing. Thankfully, The Sportsman's Guide is comprised of over 700 boots that support outdoorsmen in their mission to safely navigate their next land or aquatic adventure. At SportsmansGuide.com, your patrons can peruse its massive inventory of boots and filter by color, style, hunting type and more, to find footwear that keeps their feet comfortable throughout various hunting conquests.
Shop big game footwear at SportsmansGuide.com
---
Preparing for an afternoon fishing on the water can be fruitless if the anglers among your audience neglect to secure rods and reel combos to optimize their fishing experience. Fortunately, Dick's Sporting Goods offers a multitude of fishing ring rods, reels, and baits guaranteed to prevent them from getting "skunked" at prices even the most budget-conscious consumer can appreciate. Currently, at Dick's Sporting Goods, customers can receive up to 40% off select fishing gear and enhance their chances of "bagging out" during their next fishing trip.
Up to 40% Off Select Fishing Gear
---
Market these national hunting and fishing day discounts now available on your landing page via FlexOffers.com today!