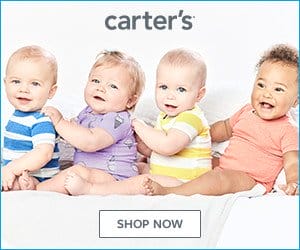 Celebrated annually on the first Saturday in April, National Love Our Children Day honors children and brings awareness to efforts made to keep them safe. The families among your audience will be thrilled with these deals on clothing, formula, and other essential items to keep their little ones happy and healthy.
Don't pass the opportunity to promote these National Love Our Children Day sales on your website via FlexOffers.com today!
---
A leader in the infant clothing industry, Carter's caters to parents who only want the most adorably designed quality apparel for their baby. From playful pajamas to tiny jeans, they're an excellent source of affordable garments for kids at all stages of early growth.
Sweet Spring Break Doorbusters – $4+ Collectible Bodysuits, $6 Snap-Up Rompers, and $8+ Dresses at Carter's! Valid 4/1 – 4/8
---
For well over a century, OshKosh B'gosh has been manufacturing clothing for kids with a distinct Americana appeal. While their signature overalls are always a hit, their popular lines of casualwear, sleepwear, and even swimwear are likely to convert a few clicks on your landing pages, too.
Time to Shine! Shop $5 Tees, $6 and Up Leggings, $7 and Up Tanks/Shorts/Skorts at OshKosh B'gosh! Valid 4/1 – 4/8
---
Families who look for safety and transparency when purchasing products for their children will be drawn to The Honest Company's inventory of natural baby and beauty goods. Not only do they use innovative formulas to develop products that maximize renewable resources while avoiding chemicals that may concern parents, but The Honest Company also advocates for better laws to protect families. What more could you ask for on National Love Our Children Day?
Get $20 Off Plus Free Shipping on Your First Month's Diapers Plus Wipes Bundle. Special Delivery, Our Farm-Fresh Prints Are Here for A Limited Time Only!
---
SpyAppMobile | Parental Control Software
Any child with internet access is at risk of being contacted by someone who may wish to do them harm, be it via email, chat, or any number of social media platforms. The user-friendly spy software sold through the SpyAppMobile | Parental Control Software affiliate program can serve as an invaluable tool for parents who want to make sure their kids don't become victims when on their phones or tablets.
Start Protecting your Kids Today! Get SpyAppMobile!
---
The Formuland affiliate program sells some of the best baby formulas available to parents today. They stock all manner of specialty formulas that meet the specific needs of children, including organic, hypoallergenic, and goat milk varieties, among others.
Best Organic Baby Formula from Europe- Shop Now at Formuland.com
---
Macys.com is more than just a flagship department store filled with iconic fashions from some of the most glamorous brands on the globe. Trendsetters that regularly buy their wares there can tell you that Macy's is also the place for parents to pick up stylish clothing and footwear that their children will love wearing to school or while out and about with the family.
$14.99 Kids Shoes. Shop Now at Macys.com! Valid 3/31 Through 4/9!
---
Make the most of these and other can't-miss National Love Our Children Day sales now on the FlexOffers.com network!