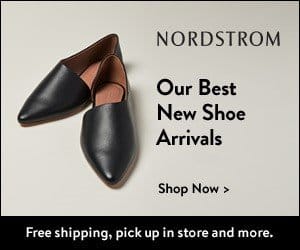 National Parents' Day perennially promotes responsible parenting and celebrates outstanding parental role models. Help your page viewers show mom and dad just how much they're appreciated by promoting these National Parents' Day bargains now available on the FlexOffers network today!
---
Through the NORDSTROM.com affiliate program, your site visitors are guaranteed to find shoes unique to their parents' style. Nordstrom.com allows shoppers to filter its massive inventory of over 2,300 shoes by gender, category, material, size, and color. For a limited time at NORDSTROM.com, fashionistas can purchase shoes up to 50% off and receive free shipping on shoes suitable for any occasion.
Find the perfect sneakers for every occasion – weekend hangouts, gym workouts and more—at Nordstrom. FREE shipping, pick up in store and more.
---
A "staycation" is ideal for commemorating National Parents' Day, but budget-conscious individuals may feel as though quality time away from the kids with their significant other is out of reach. Thankfully, the InterContinental Hotels Group offers true hospitality at an affordable rate. Now at IHG.com, future guests can plan a romantic getaway, members can save up to 15% in select cities.
Plan a romantic getaway. Members save up to 15% in select cities.
---
If the parents among your audience would rather not spend all day in the kitchen during National Parents' Day, then they could certainly benefit when you promote the RealEats affiliate program on your landing page. By registering with RealEats, subscribers will be privy to chef-cooked meals available to be delivered directly to their front door. RealEats dishes come sealed in food-safe pouches that create fresh, healthy meals in a mere six minutes.
Low-Calorie, 6-Minute Meals. No microwave, meal prep, or cleanup.
---
It's not uncommon for parents to loathe the amount of screen time they've afforded their children through their wireless data plan. By visiting Tello.com, your web traffic can join the most flexible carrier in the US and build their own prepaid phone plan that gives them options to increase or decrease their child's data without penalty. By purchasing a prepaid phone plan, parents' will not only have peace of mind about their kid's decreased screen time, but they'll also be pleased with its pricing. Now at Tello.com, customers can receive 15% off Tello's custom plans with promo code 15OFFOF.
Get 15% OFF Tello's Custom Plans w/ Promo Code: 15OFFFOF
---
Keeping children safe and sound these days isn't easy and with seen and unseen dangers lurking in the darkest corners of the internet, it would behoove parents to arm their family with SpyAppMobile | Parental Control Software. SpyAppMobile |Parental Control Software is the ultimate spy tracker system for mobile phones and tablets, equipped with live remote camera spy, a call recording tracker, the ability to monitor social media, and other messaging apps.
Get 15% OFF with Promo Code SAM15% | Start Protecting your Loved Ones Today with SpyAppMobile!
---
While BeddingInn.com is one of the leading suppliers for bedding sets and home décor products, they've expanded their inventory to deliver a greater range of options for purchasers. Whether in search of home goods, outdoor equipment, or even car accessories, you readers will assuredly find everything they need at a discounted rate. During the BeddingInn.com Parents' Day sale, cost-conscious consumers can save up to 88% site-wide on items that improve their home's aesthetic appeal or make their lives easier.
Beddinginn Parents' Day Sale: Up to 88% Off Sitewide; $10 Off $69+, $20 Off $159+, $40 Off $249+ With Code:PARENTS10;PARENTS20;PARENTS40, Shop Now! Valid time:7.26-7.28
---
Capitalize on these National Parents' Day bargains now available through FlexOffers.com!