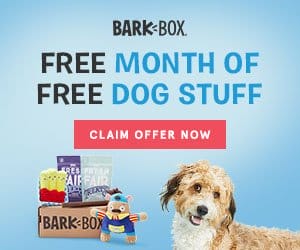 April 11th is National Pet Day, and a perfect opportunity to cater to the needs of your readers' pets, be they furry, feathered, or scaled. Don't miss your chance to promote these National Pet Day 2019 discounts from some of the industry's biggest advertisers via FlexOffers.com today!  
---
Each month, BarkBox delivers a package filled with high-quality dog toys and treats that pet parents and their dogs will both love opening up. As the themes change with each delivery, there are always new things to experience, too. Best of all, should pups not adore the goods they've received, the BarkBox team will work to make things right.
Special offer: Add a FREE BarkBox to Your Subscription!
---
The team of dog lovers at BarkBox knows that some canines just love to play rough with their toys, which is why they developed the Super Chewer monthly delivery subscription box. In it, customers will receive exceptionally tough chew toys and treats that even large dogs won't be able to instantly destroy.
Get 50% OFF Your First Super Chewer Box. Offer Ends Soon!
---
At petmate.com, your site visitors will be able to buy goods for their furry or feathered companions that are made for and by pet people. That means that every elevated dog feeder, bird cage, and fish tank is crafted with the utmost care using eco-friendly techniques in an award-winning facility to grant pet owners the ultimate peace of mind.
SAVE on Value Packs at Petmate.com! Find affordable bundles for dogs and cats from just $7.99.
---
Through the VetPet Box affiliate program, your patrons will be able to sign up for pet chewed (not literally) and vet approved (literally) subscription boxes filled with items. Orders include nutritious treats, high-quality toys, wellness products selected by vets, and educational materials to help inform customers about important medical issues their dogs or cats may face.
Give Your Pet the Gift of Health & Happiness! – Receive 20% Off Your First VetPet Box Using Promo Code: GetHappy20
---
PETCO is where pets and their owners go to get top rated toys and treats from the brands they already trust. They're also a great source for essential pet meds, including heartworm medication, flea & tick treatments, and even arthritis relief for older animals.
10% off when you Buy Online and Pick Up in Store
---
Traveling for business or fun can be stressful for pet owners, as they have to hire sitters or make other arrangements to keep their companions safe while they're away. Thankfully, there are over 1600 Best Western properties that allow guests to bring their pets along, ensuring no one is left lonely.
Best Western – over 1600 Pet Friendly Properties
---
Capitalize on these and other enticing National Pat Day 2019 discounts now available through FlexOffers.com!