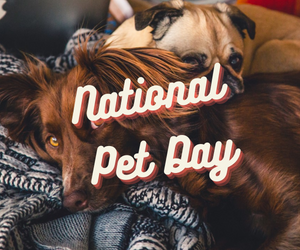 National Pet Day is April 11th, and the FlexOffers marketing team has gathered enticing deals for pet owners everywhere to celebrate their animal companions.
Encourage your customers to spoil their furry friends when you promote these National Pet Day bargains now available on the FlexOffers network!
Many dog owners can agree that keeping up with their dog's dental health isn't easy. Thankfully, Bark Bright offers a toothbrush-free dental kit guaranteed to freshen a dog's breath. The Bright Dental Kit is an award-winning toothpaste and dental stick combo that cleans the dog's mouth and brushes teeth without using an invasive and uncomfortable toothbrush. For a limited time, customers can obtain an extra month for free when they subscribe at barbox.com/brightdental.
Affiliate Exclusive: BARK Bright Free Extra Month Text Link 2022
For the tough chewers at home, Super Chewer offers a themed collection box of super-tough toys and tasty treats, guaranteed to keep them entertained every month. Super Chewer is a subscription-based service that provides dogs with heavy-duty chew toys made with strong rubber and nylon to give dogs the playtime of their dreams. Now at barkbox.com/super-chewer, new customers can obtain a free stuffed foam dog bed with a multi-month subscription, while supplies last.
Limited Time: Get a FREE tufted foam dog bed when you sign up for Super Chewer.
While pets bring joy and happiness to one's household, they can also leave behind unpleasant odors on every surface they touch. Fortunately, Angry Orange offers powerful biodegradable pet deodorizers and stain removers safe on all surfaces that will keep your customer's home smelling like fresh oranges all day long. When shopping at angryorange.com, customers can save 15% off sitewide when using promo code FLEX15 at checkout.
15% OFF Sitewide at Angry Orange with Promo Code: FLEX15
Chewy's Pharmacy offers a vast selection of pet healthcare products to help pet owners keep their animal companions healthy. Whether looking for prescribed medications or over-the-counter vitamins, Chewy.com has affordable healthcare solutions for dogs, cats, and horses conveniently delivered right at the customer's doorstep.
20% Off Your First Chewy Pharmacy Order use Code RX20 at Checkout
If customers are considering adopting a pet to join the family, PETCO Animal Supplies can help them get ready for its arrival with a same-day delivery service. When browsing Petco.com, shoppers can get all the essentials such as dry food, flea and tick collars, food storage, and other products delivered on the same day of purchase when their order is $35 or more.
Get Free Same Day Delivery When You Order By 2PM Local Time, On Eligible Orders Over $35
PetSmart is one of the largest specialty pet retailers in the nation with an extensive selection of high-quality products and accessories for a healthier, happier pet. Whether shopping bird cages, litter boxes, fish bows, or dog beds, Petsmart.com offers great deals on all pet essentials from reputable brands in the market.
Enjoy Free Same Day Delivery powered by DoorDash at PetSmart.com!
1-800-PetMeds is one of America's most trusted pet pharmacies serving millions of pet owners nationwide. Its inventory offers U.S. FDA/EPA approved medications, healthy supplements, and quality foods and treats, guaranteeing only the safest and most reliable products at prices that won't break the bank. For a limited time, 1-800-PetMeds customers can save 50% off any Healthy Breed treats when using promo code 50NOW at checkout.  
50% off Healthy Breed Treats at PetMeds – Promo Code: 50NOW