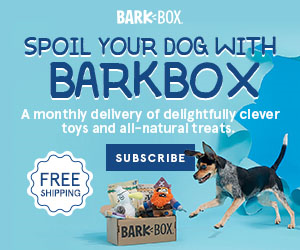 A rescued puppy can brighten up a home, not just for its undeniable cuteness, but because of the unconditional love it gives in return. On National Puppy Day, humans are reminded to love their animals every day, and raise awareness about the many shelter animals waiting for a second chance in life. Encourage future pet parents to adopt a puppy and shower them with love through these National Puppy Day bargains now available on the FlexOffers.com network!
---
Puppies love chewing on anything they can find, and its owner's shoes are no exception to this rule. Purchasing affordable new toys for your precious pup is certainly the more cost-effective option compared to spending hundreds of dollars to replace damaged shoes. Through the BarkBox affiliate program, your audience members can surprise their four-legged friend with delightful new toys and tasty treats every month to keep them entertained and away from their shoe rack.
---
For pet owners, there's no better feeling than cuddling with their pup while binge-watching their favorite TV-show. Through the Hulu affiliate program, your patrons and their pets can spend lots of time together and enjoy unlimited access to Hulu's movie vault, plus watch Live TV all without leaving each other's side.
---
A well-balanced diet goes a long way toward extending the life of a pet. With plenty of brands to choose from, Chewy.com offers pet parents an exclusive selection of top puppy food that will meet their new family member's nutritional needs. Now, customers can save 25% off their first order when they shop at Chewy.com.
---
Puppies are cute and playful but can also be susceptible to worm infestations. Fortunately, the PetCareRX affiliate program offers your web traffic access to PetCareRX's extensive medication inventory to guarantee their puppy's health. From flea and tick solutions to deworming treatments, PetCareRX houses quality products like the Panacur C – Canine Dewormer, that treat, and control parasites commonly found in dogs through their early and advanced years.
---
The addition of a new puppy not only means adding a friendly companion to the family, but it could very well result in double the mess around the house. Luckily, the Bissell Affiliate program allows your site visitors to obtain top efficient vacuums and cleanup products that eliminate pet messes. Emblematic of Bissell's high performance is the Bissell ICONpet cordless vacuum. The ICONpet cordless vacuum features an advanced pet hair management system capable of cleaning fur and dander from a variety of surfaces.
---
Through the Purple affiliate program, pet owners can put a stop to their dog's habit of getting a little too comfortable on their bed by purchasing their dog a mattress of their own. The Purple Pet Bed is a revolutionary pet mattress engineered to deliver extreme comfort that keeps your patrons' puppy looking forward to a good night's sleep on their own bed.
---
Capitalize on these National Puppy Day bargains now available through the FlexOffers.com network!