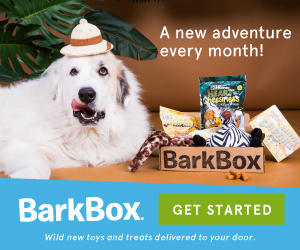 A celebration of puppies and means of raising awareness about adoption and the horrors of puppy mills, National Puppy Day presents an excellent opportunity to promote dog-related deals to your web traffic. Promote these enticing National Puppy Day discounts on your site through the FlexOffers.com network!
---
One of the most recognized subscription services on the market today, BarkBox delivers an assortment of dog toys, treats, and other goods to customers each month. It's the perfect gift for dog owners who want to experience new surprises with their canine companions.
BarkBox – $29/month Monthly Plan
---
Tile Bluetooth trackers, while extremely adept for finding lost keys, purses, and smartphones, can also be used to locate dogs that have strayed away from home. Through their free app, users can locate a Tile attached to their pup's collar within a few feet for a speedy reunion.
Save Up to 35% off Tile 8-Packs!
---
As pet lovers, we cannot stress enough the importance of making sure that pets receive their medicine regularly as recommended by their vet. By promoting the PetCareRx affiliate program on your landing page, your patrons will have access to the high-quality pet medications and food needed to keep puppies happy and healthy.
Save Up to 50% Every Day on Discount Pet Supplies at Petcarerx.com Pharmacy! Find Pet Meds for Dogs, Cats, and More! Enjoy Free Shipping on Orders Over $48!
---
Training crates, harnesses, treats, and flea & tick treatments are but a few of the puppy essentials that can be sourced through the Dog.com affiliate program. Their website also hosts a lively community forum section where pet owners can learn more about their little fur babies daily.
Save 50% on Ultrashield Woof Pouf Flea/Tick Bath Poof
---
If your audience members are planning on hosting a puppy party for National Puppy Day, ordering a few treats for the humans in attendance from thoughtfully.com might not be a bad idea. Spending hours in the company of little loving dogs and a chilled glass of tequila or whiskey prepared using the curated kits ordered from this outlet will certainly help the day melt away.
Get the Cheers to Art champagne lover's gift set.
---
Your site visitors already know that Kohls.com is filled with modern apparel and housewares for the entire family at low prices, but did they know the retailer is also a reliable resource for pet products? In addition to items like car seat covers, strollers, and stairs to help them climb in bed at night, Kohl's sells state-of-the-art vacuum cleaners to remove all the pet fur and dander that has accumulated over time on the furniture. It's a minor chore that's worth completing in exchange for the unconditional love of a puppy.
$179.99 Shark Navigator Lift-Away Deluxe Professional Bagless Vacuum reg $249.99
---
Your readers will be begging for these National Puppy Day discounts; market them today via FlexOffers.com!