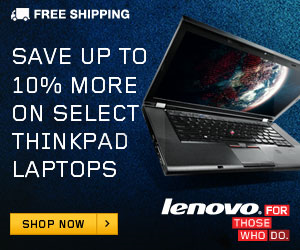 While the ability to travel back in time in a souped-up car functioning as a time machine is still unavailable to the masses, remembering cool trends from past decades is enough to bring forth bouts of nostalgia. Grant past and present generations an opportunity to celebrate the good ol' days through these National Retro Day deals now available on the FlexOffers network!
---
Lenovo's popular ThinkPad laptops are widely regarded as a reliable product across a variety of industries due to its durable design and quality. In recognition of ThinkPad's loyal fanbase, Lenovo launched the ThinkPad 25 on the laptop's 25th anniversary. The ThinkPad 25 pays homage to the original laptop's aesthetic, such as the seven-row classic keyboard and the blue Enter key. The one major distinction between the new ThinkPad 25 and its predecessor is the engine as its fueled by a 7th generation Intel Core i7 processor.
---
Before Al Gore "invented" the internet, travel expenses were typically paid with cash or traveler's checks. Luckily, with the internet bubble of the mid-nineties, OneTravel was born as an online travel service to help vacationers book their next adventure. OneTravel grants travelers fast and reliable service, while helping them save time and money in the process. For a limited time, travelers can receive $40 off when they book their flight through onetravel.com.
---
With the constant evolution of mobile technology, foldable smartphones have officially entered the cellular phone sector. The Galaxy Z Flip phone is Samsung's latest foldable smart phone release, which borrows styling cues from its mid-2000s flip phone design. The Galaxy Z Flip features a full-screen phone that folds to fit in its users' pocket. This evocative piece of tech also possesses revolutionary flexibility, a powerful battery, and a stand-alone camera, allowing phone enthusiasts to unlock a new wave of technological possibilities.
---
Picking up a movie from a local video rental shop may be a thing of the past, but thanks to Hulu, your audience members can partake in a similar experience without leaving the comfort of their home. Instead of searching isles of endless movie titles, movie enthusiasts can browse through Hulu's library for a variety of new releases and classics like Star Trek and Saturday Night Fever. Hulu subscribers can enjoy unlimited access to Hulu's movie vault, plus watch Live TV all without getting up from the living room couch.
---
While sneakers are used now more than ever to enhance athletic performance, they've also become a fashion staple. Through the Finish Line affiliate program, your patrons can obtain the latest footwear and classics like the Adidas Superstar or Converse Chuck Taylor suitable to achieve a vintage, yet on-trend look.
---
By promoting the Nordstrom.com affiliate program on your landing page, fashionistas will be privy to Nordstrom's exclusive denim selection. By way of its massive denim inventory, your page viewers will find styles from well-known brands like Levi's and Lucky Brand that transcends trends to complete their retro look.
---
Market these National Retro Day Deals on your site now available via FlexOffers.com today!