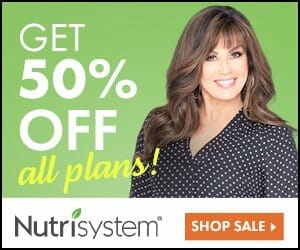 Self-improvement comes in many forms, which can occasionally leave those who aspire to better themselves unsure of where to begin. Help your site visitors identify and address areas of opportunity through these National Self-Improvement Month deals now available on the FlexOffers network!
---
There are multiple ways for individuals to shed unwanted weight and an improved diet is one of them. By way of the Nutrisystem affiliate program, your page viewers can get healthy and lose up to 18 pounds with tasty meals available to be delivered to their front door. Nutrisystem.com, affords customers the opportunity to choose from a variety of meal plans that beginning at just $8 a day. Its meal plans can be customized to allow subscribers to lose weight with their favorite foods comprised of healthy ingredients.
Stay at Home and Be Healthy: We'll Deliver Essential Weight Loss Meals & Snacks Right to Your Door! Order Now and Save with BOGO!
---
An increase in knowledge is commonly referred to as the pathway to a brighter future. At Udemy.com, those looking to transform their life through education can receive unlimited access to over 150,000 online courses. Even companies such as Mercedes-Benz, Adidas, and Booking.com have trusted Udemy to edify its employees by way of its 4,000+ courses available in its Udemy for Business options. Udemy for Business delivers fresh content taught by experts and real-world practitioners who cater to a variety of learning styles.
New Customer Offer! Top Courses from Au$14.99 when You First Visit Udemy!
---
Through the Lumen Metabolism Tracker affiliate program, wellness seekers will gain access to the world's first hand-held, portable device that accurately measure's metabolism. Lumen Metabolism Tracker presents metabolic testing to the masses. Its CO2 sensor and flow meter determines CO2 concentration in a single breath and enables customers to further understand the type of fuel their body needs.
Monitor and Improve Your Metabolic Health with Lumen.me
---
If the future investors among your audience would like to increase their chances of generating passive income, then they needn't look any further than the Motley Fool affiliate program. Motley Fool provides its registered users with stock advisors to help them successfully navigate the stock market. Motley Fool's stock advisor team has outperformed the market 3-to-1 by combing every corner of the industry for companies poised to shatter the market. By signing up with Motley Fool, the day traders among your audience can rest assured they'll never miss out on recommended stock picks again.
Invest Better: Sign up for Stock Advisor for just $99/year!
---
A new exercise regimen can go a long way towards addressing a myriad of health concerns. Whether one's goal includes toning up, weight loss, or improved endurance, Bowflex features products that keep fitness enthusiasts motivated throughout their fitness journey like the new Bowflex C6 bike. The Bowflex C6 allows those looking to increase their endurance to engage in immersive indoor riding. The C6 offers super-personalized coaching and adaptive leaning workouts that adjust to the user in real-time.
(US) Your Fitness Journey Awaits with Bowflex!! Get Free Shipping on the NEW Bowflex C6 Bike. Ends 9/7. Offer valid 8/23-9/7.
---
Fall is rapidly approaching and through the NORDSTROM.com affiliate program, your patrons can update their fall wardrobe and remain in lockstep with the latest trends. At NORDSTROM.com, shoppers can search its inventory by brand, color, and clothing type to peruse pieces that suit their unique style at a discounted rate. For a limited time at NORDSTROM.com, fashionistas can shop thousands of new markdowns during its clearance sale and save up to 60% on great styles and brands for the entire family.
Shop thousands of new markdowns during our Clearance Sale! Save up to 60% on great styles and brands for the whole family and the home. Plus, get Contactless Curbside Pickup at most stores.
---
Capitalize on these National Self-Improvement Month deals on your landing page now available via FlexOffers.com today!