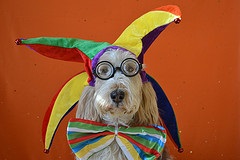 While many tricksters revel in the festivities of April Fools' Day, some of your audience members may have grown too cynical to accept anything they read online as truthful around this time of year. Even playful publishers know the key to avoiding this confusion is to build a strong sense of loyalty that shoppers can count on.
Take a look at these recently added promotions on FlexOffers.com that are almost too good to believe!
---
---
System Reboot
Spring is in full swing, and summer will be here before you know it, so there's no better time to start getting into beach body shape.
The Puritan's Pride affiliate program is filled with plenty of healthy choices for healthy living, including vitamins and herbal supplements. Aside from capsules packed with potent nutrients, the storefront also features products ideal for anti-aging, dieting, mental focus, and more. Customers on Puritan.com can receive 10% off any Puritan's Pride brand order and free shipping when they enter code: BUYNOW4 (valid 4/1- 4/7/2014).
With exquisite five star lodging located all over the world, few affiliate programs have the ability to help your page visitors unwind and recharge as InterContinental Hotels Group does. Many of their properties feature healthy dining options and fitness centers, and are conveniently situated in centralized locations for easy access to surrounding attractions. On IHG.com, customers can currently save between 10 to 30% on their spring getaway when they book early.
If a no-fuss, inexpensive excursion to the Caribbean and Mexico is more your web traffic's style, then they'll love the values on beach vacation packages and promotions from the Caribbean affiliate program. For a limited time, prospective travelers can get all-inclusive hotels from $19 at CheapCaribbean.com (ends Thursday at 11:59 EST). It's no joke!
Sounds of Spring
As bands and their fans start coming out of winter hibernation, spring concerts will soon be dotting the landscape like beacons of musical bliss. Those that become inspired to start playing themselves as a result of an unforgettable concert experience have numerous high-quality outlets to choose from.
Guitar Center, one of the world's largest musical instrument retailers, is certainly a great affiliate program to promote to those searching for the top brands in the industry. Consumers who browse and buy on GuitarCenter.com can receive a $10 gift card with a guitar purchase of $99 or more from their Strat-A-Thon collection from 4/1 – 4/11.
Woodwind & Brasswind, the band and concert authority, has instruments and practice essentials for musicians of all types and skill levels. Page patrons who make purchases from (4/3 – 4/10/14) on wwbw.com can enjoy the Bach To Work Sale with great deals on hundreds of Band & Orchestra instruments and accessories. Even those with a mild melodic curiosity should take advantage of these discounts before they figuratively get played off stage.
Funny Business
Some savings may seem too good to be true, but that's not the case with these new products from featured advertisers on FlexOffers.com. Don't be a fool this April; promote these great deals and more on your web page today!