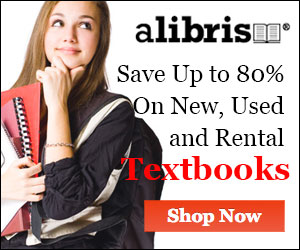 The start of a new semester is a very lucrative time of year for clever publishers who market to parents and students scrambling to get the supplies they need. FlexOffers.com has gathered some of the top advertisers offering discounts on student essentials below; take a look and see which work best for your website!
---
The Alibris: Books, Music, & Movies affiliate program connects your audience to an online network of independent booksellers who sell new, used, and out-of-print books. Students searching for an obscure title on their scholastic reading list or better deal on a specific textbook should certainly start check this outlet.
$18 off of $120+ at Alibris.com with code SCHOOL. Valid 1/4-1/6.
---
Textbooks.com specializes strictly in the business of textbooks, touting some of the best prices on the web and free shipping without any promo codes or funny business. Considering they deal in used, new, and eTextbooks at up to 90% off, their discounts are nothing to laugh at either.
Used Textbooks at Textbooks.com. Up to 90% Off + Free Shipping on $25+
---
This popular bookstore chain sells much more than just periodicals and pop culture collectibles. Barnes & Noble boasts an extensive selection of textbooks and test prep materials for exams that students at all grade levels simply cannot afford to fail. Time to start cramming!
Take $10 Off Your Purchase of $100 or More (Including New Textbooks) With Code BNJANUARY! Shop BN.com
---
Sometimes there's simply no time to wait for a book to be physically delivered to your patrons' door. In those instances, they'll want to shop the eBooks.com affiliate program, where they can conveniently browse and buy over 100,000 eBooks in a host of popular fiction and non-fiction subjects. From business strategies to today's best-sellers, titles can be downloaded on desktops and mobile devices in an instant.
Use code categorysalecp for 20% off at eBooks.com on Biography & Autobiography, Education, Mathematics, Psychology & Psychiatry, and The Environment categories – this JAN 2016
---
Your site visitors all know that Newegg.com is the place to shop for name brand computer components at affordable prices, but did they know that Newegg also carries fitness products? Dietary supplements, exercise equipment, and the latest digital activity trackers to keep people motivated while reaching their fitness goals can all be bought here.
Healthy Living: Save on Fitness Tech, Supplements & More at Newegg Marketplace, ends 1/31
---
Right now is the perfect time for college students and parents to stock up on apparel and housewares at Macys.com, particularly with all of the enticing holiday clearance sales thay've still got going on. Customers can save big on modern styles for men and women, as well as dorm room essentials like fresh towels and small electric appliances.
Save 50% – 75% Off Clearance! Dresses, Jackets and Coats, Sets, Tees, Pants, One Pieces for Baby, Jeans, Shorts, Sweaters and More at Macys.com!
---
Though known for their popular lines of fashionable beachwear, Roxy.com is also the place to go for snow gear to keep warm in winter and casual articles to wear year round. Women with an adventurous spirit are going to enjoy what they find at this surf-inspired clothier.  
Extra 30% Off ROXY End Of Season Sale. Use Code WINTER30. Ends January 17, 2016.
---
Promote these and other back-to-school savings for the new semester on your site via FlexOffers.com today!