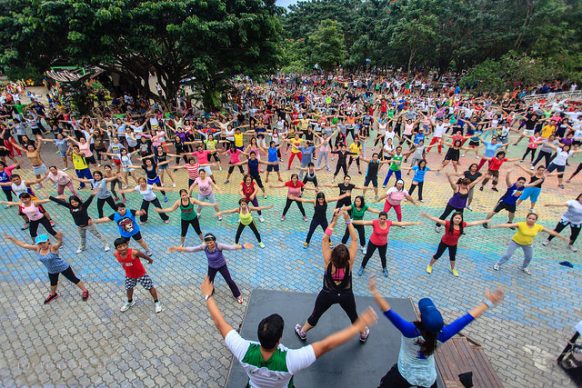 The next entry in our New Year, New You blog series this month is dedicated to one of the easiest resolutions to begin but most difficult to maintain: a regular fitness regimen. With a bit of foresight and the right products from FlexOffers.com, there's no excuse for your readers to not trim down and shape up in 2015.
Check out some of the most popular promotions for exercise equipment and accessories available today on FlexOffers.com!
---
---
The Struggle is Real
Summoning the motivation to get dressed for the gym is more than half the battle. Retailers are reaching out to consumers with some rather large savings opportunities this season, making affordability all but irrelevant when it comes to exercising.
Known for their high-energy workouts, Zumba.com is also a source for the form-fitting clothing one needs to keep pace with what seem to be superhuman class instructors. Aside from outerwear for women and men, this storefront also sells comfortable shoes constructed for sliding to your favorite beat and DVDs to keep the course even when getting to class becomes an inconvenient ordeal. Those that shop the Zumba Fitness affiliate program today can save 20% off and receive free shipping on any Incredible Results At-Home DVD system today with the code WELCOME20.
More important than brightly colored clothing, good nutritional habits are a quintessential factor when trying to lose weight. The 6 Pack Fitness affiliate program aids in the organization and transportation of properly balanced meals with lines of specialty travel gear and luggage. It can be embarrassing to carry around storage containers filled with food in plastic bags from the grocery store, especially if they spill at the office or in class. These innovative carryalls keep your pre- and post-workout meal at your side, no matter where the day takes you.
No Excuses
At 6 a.m., the ability to get up and dressed for a rigorous workout almost always loses out to the thought of having just 5 more minutes of sleep. If your page visitors can work out at a more convenient time, though, this shouldn't be a problem.
As their namesake implies, the 24 Hour Fitness affiliate program connects consumers to the website of one of the largest chains of gymnasiums in the country. As there's always a team of trainers on hand to help, people can get their pump on at all hours of the day. There are membership offers available at 24HourFitness.com right now with a minimal $9.99 initiation fee. If putting on pants and interacting with the public is too much of a chore, the P90X2 affiliate program can introduce your audience to the next level of fitness. At BeachBody.com, their revolutionary programs can get anyone into better shape in the comfort of their own home, though the burning muscles in their bodies will feel anything but comfortable after the fact.
Should your web traffic want to augment their efforts with superior athletic training apparatus, they should consider giving the goods from the Horizon Fitness affiliate program a fair shake. Treadmills, ellipticals, and even rowers for in-home use can be sourced from HorizonFitness.com, which is currently touting free shipping on all equipment. Speaking of home gyms, marketing the Bowflex affiliate program exposes your patrons to the company's plethora of high quality fitness equipment. Those that go to Bowflex.com now can receive $300 off plus a free mat and free shipping on the TreadClimber TC20 or TC10, or a free mat with the TC5 with the promo code NEWYEAR (valid Dec 23, 2014 – Feb 12, 2015).
It's not too late to commit to a healthy 2015, nor has the opportunity passed to market these fitness offers to eager individuals truly making an effort. Improve the appearance and performance of your landing page with these deals and others from FlexOffers.com today!
*Featured image via Bro. Jeffrey Pioquinto, SJ on flickr.com.