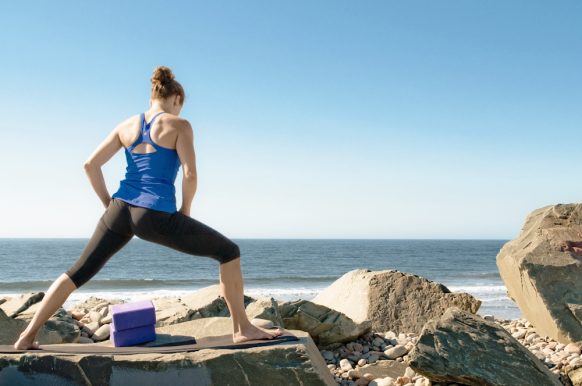 With the holiday season over, visions of sugarplums dancing in our heads have been replaced with ambitious athletic goals to burn off all those winter calories accumulated these past few months. Your audience members may already be planning a new diet and fitness regimen, and even buying clothing a few sizes smaller in anticipation of their success.
Many top advertisers are loading up with promotions that would be perfect for consumers concerned with creating a healthier, happier version of themselves in the coming year; check out some of the New Year, New You promotions available on the FlexOffers.com network!
---
---
Looking the Part
Out with the old and in with the new is a common motto come January 1st, and many people commit to creating a new look by cleaning out their closet to make room for next season's new styles.
A beacon of commerce throughout the winter shopping season, Bloomingdale's continues to give consumers incentives to browse and buy from their incredible assortment of apparel, fashion accessories, home décor, and more. From January 7-14, 2014, customers can save 25-65% on a great selection of merchandise at Bloomingdales.com. They have athletic clothing from the industry's top manufacturers available, as well as stylish coats to help people endure the few months of chilly temperatures left before the spring thaw.
Another top performer, JCPenney is an industry leader that sells scores of domestic goods the entire family can enjoy. Customers can get an extra 15% off in store and online or an extra 20% off $100 or more online only on apparel, shoes, accessories and home (offer valid 1/2 – 1/6) when they use code: JANSAVE. Many of their top selling goods from 2013 are still available, and at clearance prices that will have them moving faster than ever before. JCPenney also has a large fitness department filled with training equipment for the home, including treadmills, exercise bikes, kettlebells, and yoga accessories.
Shoppers wishing to burn off a few extra calories should definitely check out the Avenue affiliate program, which sells fashion exclusively for plus size women. Sure they have tops, bottoms, and scores of fashionable dresses, but Avenue also has active apparel for hitting the gym in style. Consumers can get $25 Off $75 with code AVCHEER25 from 1/1-1/5, saving on roomy hoodies, sweatshirts, exceedingly comfortable yoga pants in a variety of colors and designs, and more apparel to start off the year right.
Serious Shoe Game
A top source for comfort shoes and socks, FootSmart is a fine source for footcare and general lower body health products. They stock a wide assortment of specialty walking, running, and cross-training shoes that offer extra support- precisely what novice athletes need as they're transitioning back into an active lifestyle. FootSmart also has a great selection of therapeutic supports for treating and preventing pain from athletic injury or overexertion; anyone with a history of lower body joint pains might want to stock up on a few braces before taking it upon themselves to go trail running.
Timeless Taste
If your site visitors have any late winter holiday gifts they forgot to buy, or would like to adorn themselves with a great new timepiece, you can't go wrong with the choices sold through the Ashford affiliate program. Their virtual storefront is filled with fine jewelry and watches for ringing in the New Year from famed designers regarded the world over for expert craftsmanship and aesthetic appeal. Ashford has sport watches for both women and men, as well as upscale dress watches adorned with precious stones that would look exquisite with a new outfit from their updated wardrobe.
Everything Must Go
Though the winter holiday shopping season is coming to a close, there are still plenty of sales available from top retailers to keep your website warm well into the New Year through FlexOffers.com. You can only benefit from this bargain boon if you start promoting these retail deals on your site today, so get to it! Happy New Year!