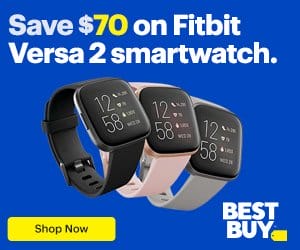 Consuming copious amounts of food during the most festive time of year is apropos but gaining unwanted weight after scarfing down an abundance of your favorite holiday cuisines is certainly suboptimal. Help new and experienced gym lovers achieve their fitness goals by promoting these nifty New Year's fitness bargains now available on the FlexOffers network.
---
By promoting the Best Buy affiliate program on your landing page, your web traffic can shop its inventory of Amazon Fitbit Versa 2 smartwatches to aid wellness-seekers along in their fitness journey. The Amazon Fitbit Versa 2 allows its users to navigate voice commands through its Alexa integration and receive information about their activities. Fitness buffs will also be privy to statistics such as steps, distance traveled, calories burned, and more to help them inch closer to their goal – daily.
Save $70 on Fitbit Versa 2 Smartwatch.
---
Wearing an inferior running shoe can take a toll on one's feet and joints. Thankfully NIKE offers multiple running shoes, that take the stress off fitness lovers' lower extremities, such as the Nike Joyride Dual Run. The Nike Joyride Dual Run is comprised of tiny foam beads, which fit under the wearer's foot to provide cushioning that essentially gives their legs the day off.
Shop Nike.com for all new Joyride Running Shoe Collections
---
Through the Bulldog Yoga affiliate program, the yogis among your audience can stream yoga classes any time, any place. At BulldogYoga.com, your site visitors can register for a 30-day free trial and receive unlimited online access to classes via iOS, Android, Roku, and FireTV. Due to its convenience and flexibility Bulldog Yoga members can improve their strength, balance, and flexibility while perfecting poses in the comfort of their own home.
ADVERTISER Workout On-the-Go from Anywhere with Bulldog Yoga!
---
Improving fitness levels may initially sound like a great idea but once the initial excitement of tackling a fresh New Year's resolution wanes, it's not uncommon to see a precipitous decline in enthusiasm. At Energyfirst.com, gym-goers can replenish their ambition with its PreFuel pre-workout energizer. By purchasing just two scoops of PreFuel pre-workout, customers can obtain the energy and mental clarity necessary to perform their best.
Get 10% Off Prefuel with code PREFUEL10
---
Attempting to exercise in the cold is enough to demoralize any outdoor exerciser. However, by purchasing outerwear and accessories from Ravean, your page viewers can make certain that freezing outside in the midst of an outdoor workout becomes a thing of the past. Ravean.com features an assortment of heated jackets and gloves equipped with carbon fiber heating panels, guaranteed to keep joggers and outdoor Crossfitters warm in temperatures as low as -10° F.
10% discount on the entire cart. Enter RAV10 at checkout. Shop Ravean today!
---
If your patrons are seeking measures to build muscle and endurance without hopping from one exercise machine to another, they needn't look any further than Bowflex. Bowflex affords your readers an opportunity to enhance their stamina and strength through its Hybrid Velocity Training (HVT) machine that delivers a total body workout in as little as 18 minutes. Currently, at Bowflex.com shoppers can receive a free mat, free shipping and $100 off its HVT machine and continue along their quest toward greater gains.
New Years Daily Deals! Shop BIG savings with code SAVEBIG for $100 Off + Free Mat + Free Ship on the Bowflex HVT! Offer Valid 12/27 ONLY!
---
Market these New Year's Fitness bargains now available on your landing page via FlexOffers.com today!