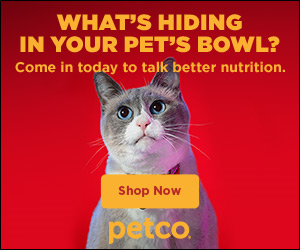 A cat's popularity goes beyond its soft fur and adorable aesthetics, as these felines are well-known for being adventurous, independent, and intelligent. As cats are one of the most common household pets from a historical perspective, there is no doubt that they deserve an international holiday of their own. Help the cat lovers among your audience celebrate their furry friends through these paw-some International Cat Day rebates now available on the FlexOffers network!
---
Whether your cat loves to lie down around the house or jump and play all day, providing them with a high-quality, nutritious diet goes a long way towards giving them energy they need. Through the PETCO Animal Supplies affiliate program, your page viewers can obtain tasty and healthy cat food, guaranteed to enhance their cat's overall wellness.
Hot deals on their favorites during Petco's Summer Playcation Event!
---
Cats are naturally inclined to chase other living creatures. However, it is possible for cats to leave the comfort of their home and step into unknown territory while chasing down their prey. Luckily, the Tractive affiliate program allows your patrons to locate their cat wherever they may travel. Tractive offers a GPS collar for cats that monitor their activities, giving pet owners peace of mind that they'll never lose sight of their favorite feline ever again.
Happy International Cat Day! Shop 20% off IKATI + Sleeve!
---
Through the Chewy.com affiliate program, your site visitors will be able to purchase toys their agile kitten is guaranteed to love. From teaser wands to catnips, Chewy.com offers a great variety of durable, fun-packed toys for cats to stay active for hours and burn lots of energy. For a limited time, Chewy customers can enjoy a 20% discount on top products listed in the Chewy Kitten Shop.
20% off Top Products in Chewy Kitten Shop
---
It's not uncommon for cats' owners to wonder about their four-legged friend's ancestry, as their origin may be difficult to identify by sheer virtue of their behavior and/or features. Fortunately, the Basepaws affiliate program allows your web traffic to expand their knowledge on their cat's conduct and health predispositions through a simple, yet innovative DNA test. The Basepaws Cat DNA test kit is an easy and harmless swab test that ensures cat owners are in fact raising a Toyger and not a baby tiger.
Save $15 off Basepaws Cat DNA Kit with code CATDNA – National DNA Day
---
Having the right litter box is a key component in caring for a cuddly kitten. Given that cats can be rather particular when it comes to their litter box, Pet Supermarket offers your readers a variety of litter boxes that perfectly suits their cat's needs from their younger years to the advanced stages of their lives. Pet Supermarket's inventory also includes Arm & Hammer cat litter which creates rock-solid clumps for easy removal and reduces the risk of tracking – so litter stays exactly where it's supposed to be.
Arm & Hammer Cat Litter Select styles now $15.99 at petsupermarket.com. Valid through 8/7. Shop now!
---
If your web traffic is looking to give their cat's litter box a colorful and fun twist, then they needn't look any further than the Neon Litter affiliate program. The Neon Litter affiliate program grants your patrons access to colorful and reliable cat litter products guaranteed to make their cats litter box glow. Neon Litter works effectively towards absorbing liquids and drying solid waste, controlling unpleasant odors, whilst providing a unique vibrant touch your cat deserves.
Buy 3 bags of NEON Litter, Get 1 Free!
---
Market these paw-some International Cat Day rebates on your landing page now available via FlexOffers.com today!