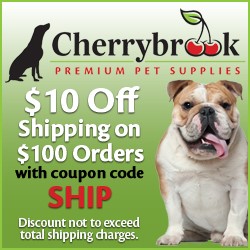 Whether raising a show dog or lovable family mutt, Cherrybrook believes that every one of your readers' pets is a champion. This premium pet supplier is an excellent source for name brand foods, supplements, toys, and other supplies for ensuring a happy and healthy life.
Make the most of the unconditional love your audience members have for their pets by promoting these new offers from the Cherrybrook affiliate program available via FlexOffers.com!
---
$10 off shipping on orders over $100 with code SHIP at Cherrybrook.com. Offer expires June 30th.
Father's Day Gift Guide at Cherrybrook.com
Dog breed gifts for Father's Day at Cherrybrook.com.
---
While savings and selection have been a part of Cherrybrook since it began back in 1969, their current discount opportunities are among the best of the season. Through June 30th, for example, customers can receive $10 off shipping on orders over $100 with code SHIP.
These values can be applied to breed-specific figurines, watches, apparel, and other gifts that dog lovers will surely cherish. Cat supplies and collectibles are included in the promotions as well, despite their likelihood of being swatted off a table for no apparent reason.
---
Dental health is easy with dental treats for pets at Cherrybrook.com. 
Win the blue ribbon with Cherrybrook's substantial show dog supplies! From coat enhancing products to dog colognes, no judge will be able to resist your pup's stunning presentation and charm. Shop now!
Cherrybrook.com has the best supplies for your furry little ones! From innovative toys, like scented catnip bubbles, to top of the line flea and tick prevention and treatment, Cherrybrook ensures your cat stays purr-fectly happy and healthy.
---
With Father's Day around the corner on June 19th, Cherrybrook.com is a unique option for gifts your site visitors may not have considered initially. A whimsical polo featuring their favorite childhood pup can stir up feelings of joy, as would a hand-painted dog pin they can apply to their favorite hat, tie, or duffel bag. Should dad happen to be in need of a duffel bag, by chance, customizable ones can be ordered from Cherrybrook.com, too.
June is also graduation season, which provides another opportunity to market the Cherrybrook affiliate program to your patrons. As students are graduating high school and heading to their campus dorms for the first time, they may grow homesick and miss their pets. Thoughtful parents who browse Cherrybrook.com can find a keepsake for kids to take as they leave the nest, as well as deals on food and medications to keep the family pet going for years to come.
---

---
Don't miss your chance to market these and other enticing deals from the Cherrybrook affiliate program on your website via the FlexOffers.com network today!