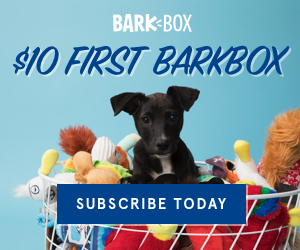 Show your puppreciation for dogs by promoting these pawsome National Puppy Day markdowns on your site through the FlexOffers.com network!
Your readers will really dig these deals on treats, toys, pet meds, and dog fashions that are totally fetch.
---
Life can be ruff for dogs who find themselves indoors and bored all day, which is why canines and pet parents alike adore BarkBox. This subscription service sees a curated collection of chew toys and tasty treats delivered each month, which can be pupdated to a dog's size and allergy requirements, if need be. Makes a great gift, too!
3.23.18 $10 First Box National Puppy Day Promo
---
If your patrons' pups are yapping instead of napping at night, the Good Life® Bark Control affiliate program offers electronic devices that can humanely keep them quiet. These ultrasonic training devices are also ideal for people living next door to a particularly rowdy pooch as they'll help keep noise levels down without being intrusive.
Help Regain Peace & Quiet This Spring with the Dog Silencer MAX – 10% Off With Code: FXSAVE10DS
---
All it takes is the rustling sound of a bag of all-natural BestBullyStick treats opening to get a dog's attention. These tasty and nutritious chews come in a variety of flavors, and are suitable for dogs of all ages and sizes to gnaw away at to their heart's content.
Check out our SEMI-ANNUAL sale! Get 25% off SITEWIDE from 3/19-3/25! Use code "SAS18"!
---
Dog medications can be incredibly pricey when picked up from the vet's office. By adding PetCareRx affiliate program links and banners on your site, your audience members will be able to save considerable amounts of money on the same high-quality name brand meds and topical treatments with enough cash left over to pick up a new squeaky toy or two.
Get an Additional 20% OFF Flea and Tick Treatments at PetCareRx.com! Use Code: EXTRA20
---
The aptly named Dog.com affiliate program stocks one of the most impressive varieties of quality puppy products on the web today. From health monitoring smart collars and Bluetooth leashes to travel crates and tick treatments, this online storefront can serve as the one-stop shop for every fur baby your readers have at home.
Springtime Pet Essentials Sale
---
Chic collars, leashes, and harnesses are just half of what makes the Wolfgang Man & Beast affiliate program amazing. The other half is comprised of coordinating items for dog owners like matching keychains and stylish tees which let everyone know who's running the pack.
Wolfgang Man & Beast harnesses have been designed to be highly adjustable, double-secure, and most importantly, completely rad.
---
Don't roll over these National Puppy Day discounts; market them on your landing page via FlexOffers.com today!