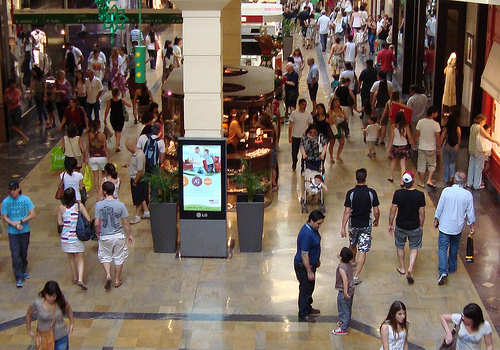 Discover Financial Services has teamed up with e-commerce business PayPal to extend their payment brand to over 7 million retail locations in the United States in 2013. PayPal, a subsidiary of eBay Inc., will be bringing their loyal base of over 50 million U.S. customers to these brick-and-mortar locations across the nation with Discover-branded cards.
---
Online Comfort at Offline Checkouts
Participating merchants will have to make very little effort on their own to bring PayPal payments to their customers once the program begins rolling out, as no additional hardware or software is needed to install at point-of-sale systems. Merchants will pay a processing fee to PayPal, who will pay Discover for the use of its network, but all that customers will see or need to know is that familiar PayPal logo is handling their transactions.
Product purveyors in tangible storefronts will obviously love the potential increase in business, but there is no understating or underestimating how this may affect fickle consumers who have made a habit of shopping exclusively online. Those who have used prepaid debit cards in the past to access their PayPal account, such as from Discover, will enjoy the newfound flexibility and freedom this partnership will bring to their real-world purchases.
Merging these two worlds will streamline the payment system for many consumers and bring the inherent trust they have for PayPal to everyday purchases they may have otherwise been reluctant to make offline. In fact, all that merchants will need to do is display some in-store signage in order to invite legions of spenders who traditionally shop online using PayPal.
Potent Paperless Power
The very concept of walking around with stacks of paper currency is not just an antiquated (and very dangerous) notion, it is already becoming nearly obsolete as companies like PayPal continue to extend their services offline. With industry leaders like Starbucks and Home Depot already bringing PayPal to their stores nationwide, this partnership with Discover further strengthens their brand by building relationships between millions of businesses and customers.
The power of this strategic relationship was expanded upon by Don Kingsborough, PayPal's Vice President of Retail, who said in a recent Discover press release: "This relationship will deliver a truly seamless digital wallet, available most places consumers shop offline, which offers the speed, simplicity and security already enjoyed by 113 million active PayPal customers online."
The New Retail Evolution
Though not the first major credit card issuer to leverage the power of a company born online to increase both of their bottom lines, this partnership between Discover and PayPal brings two notable companies together in the near future with some potentially very positive results. PayPal's large online audience and seemingly universal acceptance at digital storefronts will be a great addition to the Discover brand; other issuers should definitely take notice.