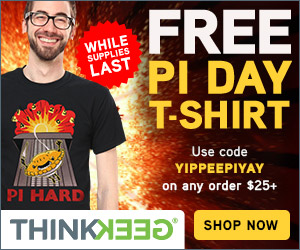 March 14th marks Pi Day, which is a whimsical celebration of the mathematical constant π (pi, whose first three digits are 3.14). In addition to the educational implications, there are lots of fun ways that your readers are celebrating Pi Day, and we've gathered a handful of helpful banners below.
Don't be irrational; promote these Pi Day savings via FlexOffers.com!  
---
Your audience members with access to a flexible spending account at work will be thrilled with the inventory options at FSAstore.com. Medical kits, baby care goods, and diabetes support items are among the completely FSA-eligible assortment of products sold here.
Save $20 off orders of $250 or more + FREE Shipping at FSAstore.com! Code: MAR2016 (Valid 3/1/16 12:01am PST until 3/31/16 11:59pm PST. Cannot be combined. Limit one per customer)
---
Mathematicians, and anyone else for that matter, who find themselves on a computer all day will want to ensure their system's protected with the security solutions sold via the Symantec Corp. affiliate program. Their software is highly regarded around the globe for proactively keeping malware, viruses, and other harmful system intrusions at bay.
$30 Off Norton Security Premium with code NSBUUS30OFF. MSRP $89.99
---
A storefront filled with apparel, collectibles, and other goods that are dear to every geek's little heart, ThinkGeek.com knows how to celebrate Pi Day in style. The website is including FREE commemorative Pi Day t-shirts with select orders that are sure to be a hit with pop culture aficionados
Free Pi Day 2016 T-Shirt with $25+ Orders!
---
ForTeachersOnly.com
ForTeachersOnly.com makes teaching the concept of pi a more enjoyable experience. The outlet stocks numerous aids for instructors of all subjects, including pencils printed with pi's numerals to help students learn as many as they can before the big test. No cheating!
PI Day Merchandise! 
---
Should your less mathematically-inclined site visitors need a bit of help working with pi, the Newegg.com affiliate program features thousands of calculators and other digital devices to get the job done. In the market for a new name brand laptop or tablet at an affordable price? Look no further than Newegg.
FLASH SALE: $185 OFF Seiki 22″ Class 1080p 60Hz Retro Design LED TV SE22FR01 – $74.99 at Flash.Newegg.com, ends 3/15
---
Another fun way to get in the spirit of Pi Day is to celebrate it as Pie Day, as in with actual pies. The Harry & David affiliate program sells delicious sweet pies and filling savory pies that rival any homemade pastry you've ever tasted before. What's more, they also serve as great treats for upcoming Easter feasts.
Enjoy 20% Off, No Minimum Purchase (2/17-5/31/16) 
---
It's easy to remember these and other top Pi Day promotions available from the FlexOffers.com network!