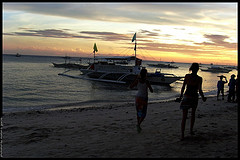 Even with the revelry of spring break taking over the collective unconscious of college youth, the truth of the matter is there's not enough time to do everything you'd like to. Careful itinerary planning and shopping for new outfits beforehand can save travelers from embarrassing social episodes, and that's precisely where a wise publisher such as yourself comes in.
Help your audience find the right deals for a fun and exciting vacation this spring at FlexOffers.com!
---
---
Go Team Venture
Unless every member of a party is fine with a single person making all the choices on hotel stays, there will be inevitable complaints from someone on the team. Whether venturing across town or across the world, the collaborative hotel booking platform available through the ShareTrips affiliate program makes democratizing destination details a whole lot easier.
You can save time and money by booking your travel together and sharing your screen on ShareTrips.com. On the site, users simply invite friends to join them on the same booking page using a specific code provided, where they can all collectively plan their trip as a group via video, audio, and text chat. Everyone can interact with the shared page and provide input, so there's no excuse when the group accidentally ends up in Miami, Ohio rather than Miami, Florida.
Become a New You
Since it's likely your web members will not be recognized by others while on vacation, it's a great time for them to expand their fashion sense and essentially transform into a completely different person for a few days.
The ASOS affiliate program is a one-stop fashion destination for both women and men, with hundreds of world-class designer brands for sale under a single roof. Regardless of whether you'd like to dress up in ultra-classy attire or go wild at the beach in a new bikini, ASOS is offering free express shipping over $140 with code EXPRESSUSA. If fashionistas have ever wanted to experiment with a new look, there's no time like the present.
Two other affiliate programs that your page patrons should take into consideration when shopping for new apparel are House of Harlow and Metro Park USA. A favorite label among celebrities, HouseOfHarlow1960.com hosts a bevy of best-selling women's clothing, jewelry, handbags, shoes, and sunglasses. Filled with contemporary fashions for young adults from independent clothing and accessory vendors, MetroParkUSA.com supports originality and expression for all. Both House of Harlow and Metro Park USA have an exclusive promotion available from FlexOffers which ends 4.15.14, granting 10% off your order with code: FLEX10.
Stay Connected
Especially when travelling to an unfamiliar location, one should be sure that their smartphone and essential accessories are in excellent working condition. If not, the Verizon Wireless affiliate program can provide great options on some of the most popular portable communication devices on the market today. Those who shop VerizonWireless.com now can receive a free iPhone 5C (new 2 year activation required, buy for $99.99 and get $100 bill credit per line on new activations, bill credit applied within 2-3 cycles, and free overnight shipping)! A fully charged, functioning phone is an invaluable resource for navigating the world that will not be taken for granted the moment travelers find themselves lost.
Timely Deals
Youth, and the time in which one can enjoy its benefits, is ever-fleeting. Take advantage of these promotions that can help consumers plan for the perfect spring break getaway today via FlexOffers.com!
*Featured image via Darkside_sithlord [Marlon Garcia] on flickr.com