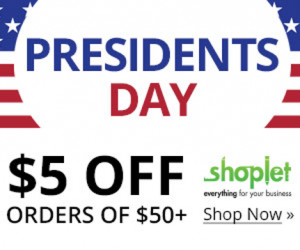 Outside of attempting to vote via a malfunctioning voting app, there aren't many circumstances more frustrating than engaging in retail therapy while adhering to budgetary constraints. Whether shopping for sport or 2020 election essentials, balloters will assuredly find bargains that work when you promote these Presidents Day discounts now available on the FlexOffers network!
---
By promoting the Shoplet affiliate program on your landing page, the educators among your audience can dress up their office and/or classroom in decorative artwork featuring a patriotic red, white, and blue background. Each 6"x 6" piece is also topped with a prompt that reads "If I Were President", which affords students the opportunity to expressly communicate their plans and ideas for their four-year tenure as commander-in-chief.
President's Day Sale! Take $5 Off Orders of $50 or more + get Free Shipping on Standard Orders with code PRESIDENTS5 at Shoplet.com! Offer ends 2/20
---
Through the InterContinental Hotels Group, vacationers can commemorate Presidents Day by booking a room at The InterContinental Willard Washington, D.C. Located a mere two blocks from The White House on Pennsylvania Avenue, The InterContinental Willard offers a unique combination of historic charm and modern-day hospitality at an affordable rate. Currently, at IHG.com, guests can book early and save up to 15% on their next trip to Washington, DC and immerse themselves in the cities past and present during their President's Day stay.
Book Early and Save up to 15% on your next trip to Washington, DC with Crowne Plaza, an IHG hotel!
---
In honor of George Washington's birthday, Presidents Day is typically celebrated on the third Monday of February. Prior to the battle of Valley Forge in 1777, Washington approved the request for his men to be fitted with "very good shoes," and through Puma's inventory of innovative sneakers, his message still rings true over 200 years later. At US.Puma.com, customers can find stylish sneakers such as the Puma xSonic RS-X3, which features a lightweight PU midsole that successfully guides shoe enthusiasts through their daily battles.
President's Day Sale at PUMA! 25% off sale. Valid 2/13 – 2/17
---
Every candidate needs a good running mate, and through AJ Madison's Presidents Day sale, your web traffic can purchase the perfect illustration of a dynamic duo in its side-by-side washer and dryer sets. AJ Madison houses a multitude of washer and dryer sets that save time and energy such as the LG LGWADREW37001, equipped with Wi-Fi- connectivity that enables voice commands via Amazon Alexa and Google Home.
Presidents Day Mega Sale: Save up to 55% on major appliances from your favorite brands at AJMadison.com!
---
Dwight Eisenhower, Ronald Reagan, George W. Bush, and Barack Obama all wore tan suits during their presidency. Their willingness to temporarily abandon classic charcoal and gray garments is proof that beige suits never go out of style. Through the Express affiliate program, your page viewers can find lighter-colored suits such as its Slim Camel Cotton-Blend Stretch suit jacket and pant allow them to pay homage to presidents who dared to be different. For a limited time at Express, shoppers can receive 40% off select items during its Presidents Day sale.
Presidents Day Sale! 40% Off Select Express Styles!
---
One perk to becoming president is being shuttled around the globe while seated aboard the iconic Air Force One aircraft. Now the jet setters among your audience can also travel in the lap of luxury when they book their flight through Smartfares. The Smartfares affiliate program has over 500 airlines capable of providing your patrons comfort and style at markdown prices even the most budget-conscious consumers can appreciate.
Presidents Day Sale at Smartfares
---
Capitalize on these pleasurable President's Day Discounts now available through the FlexOffers.com network!