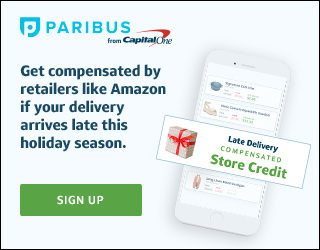 Benjamin Franklin once said, "every penny saved is a penny earned." Now your page viewers can save beaucoup Benjamins through the Paribus affiliate program. While online prices fluctuate throughout the year, Paribus scours the web to make certain budget conscious consumers receive 100 percent of the difference in price they are owed on their respective purchases, free of charge.
Don't miss your chance to promote these praiseworthy Paribus refunds now available at FlexOffers.com!
---
In the gift giving mood? Paribus can help you save money.
Paribus will help you get compensated when guaranteed gift deliveries arrive late from select retailers!
Paribus tracks online prices and contacts stores to get you paid! Sign up for free!
---
Many online retailers offer post-purchase price matching, but far too often customers forget to follow up on the money they're owed. Paribus makes the refund process effortless for your readers by helping consumers request money back as soon as select merchants' prices are reduced. By monitoring price drops 24/7, Paribus has identified over $30MM in potential savings for users on items purchased online. Paribus tracks purchases from 25+ major retailers including Bloomingdale's, Best Buy, Walmart, Target and many more.
While buyer's remorse is palpable when prices plummet on recent purchases, Paribus scans a user's confirmation emails and watches for price changes so they don't have to. In 2016, Paribus, LLC was acquired by Capital One to further its mission of providing straightforward and innovative solutions. Paribus builds software to save online consumers time and money effortlessly and has found millions of dollars in savings for its users. Paribus has tracked 63 million purchases and $3.3 billion in online spend to date.
---
Sign up. Shop as you normally do. Get money back.
Paribus can file claims for late deliveries — from select retailers so you don't have to.
Prices change all the time. Paribus helps get you money back when holiday prices drop! Sign Up Today!
---
Paribus distinguishes itself from coupon and rebate sites that help consumers save on future buys by monitoring price drops 24/7, helping your readers get money back. Paribus monitors store refund polices and diligently seeks savings for its subscribers all year long.
---

---
Paribus is available to market through the FlexOffers.com network!