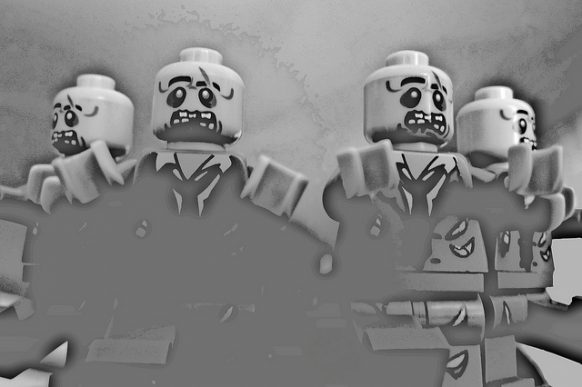 If the last decade of popular entertainment has taught your readers anything, it's that the zombie apocalypse is nigh. They're relentless, shambling masses with simple goals that act on their impulses, as are the zombies hungry for their brains.
In all seriousness, it always pays to be prepared should a wide-scale disaster strike, and FlexOffers has a few deals in our network for goods that can aid in survival and recovery efforts.
---
---
Communication is Key
Here's the situation: the CDC has issued a nation-wide warning about some unknown virus that is affecting the brain functions of your fellow man. The first thing your audience members might do, and definitely the first thing I would do, is verify that my loved ones are ok.
Through the Sprint affiliate program, shoppers can pick up the HTC One (M8) H/K Edition, which is now FREE at Sprint.com. Its fast data speeds make communicating with others a breeze, and features like HD audio and a 1080p display help informative reports come in crystal clear.
Another great source of technological tools for the end of days is the HP.com (Hewlett-Packard Home Store) affiliate program. Their tablets are among the highest regarded portable devices available today, as is the HP Pavilion x360 – 11t Touch, which features a full 360 degree hinge for ultimate flexibility and starts at $379 at Store.HP.com. If any data networks are still active, the HP Pavilion x360 – 11t Touch Laptop will be invaluable indeed.
Creature Comforts
Aside from avoiding physical harm, keeping your mental capacities balanced when in a high-pressure situation like an undead outbreak is of the utmost importance. Little conveniences your patrons took for granted when times were lighter can serve well in this regard.
Verseo, a beauty and wellness company known to surprise and delight its customers, is also an ideal outlet where one can find outerwear fit for cold weather. They don't sell your run-of-the-mill jackets and knit sweaters, but they do stock heated rechargeable vests, gloves, and even insoles to keep frostbite from setting. Now is the perfect time to visit Verseo.com, as consumers can receive $15 off $125+ with coupon code SAVE15 (valid through 10/26).
A retailer that knows a thing or two about frenzied crowds, Best Buy is where doomsday preppers can get all sorts of modern conveniences before and (in theory) after more reanimated corpses come out of the ground than Bruce Campbell can deal with. Those that go to BestBuy.com now can save 20% on one regular-priced small appliance with code FALLSAVE20 (exclusions apply, valid until 11/1).
While children may be able to accidentally eliminate a few of the slower zombies creeping up on lawns, they have no chance against adrenaline-fueled 28 Days Later-esque assailants. The best thing for the child, and the fate of humanity, is to keep them protected and distracted from the gruesomeness around them. Those that make their way to CPToys.com now can get up to 50% off sale items, which gives them plenty of time to stock up before the madness of the winter holiday season.
Hypothetically, the deals listed above would all have excellent applications should there actually be a zombie apocalypse. Realistically speaking though, they're just incredible promotions from FlexOffers.com that you should consider marketing on your site today.