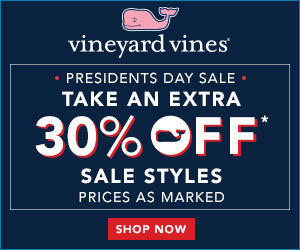 Starting with Washington, Presidents' Day celebrates the accomplishments of the highest office in the land.
Help your readers get into the patriotic spirit by promoting these Presidents' Day rebates on your site, now available on the FlexOffers.com network!
---
The preppy men's clothing and accessories sold at vineyardvines.com are ideal for formal events, from campaign rallies to evenings out on the town. Modern attire is also stocked for women and kids, so the entire family can look casually chic together.
Shop an Additional 30% Off Sale Styles at Vineyard Vines!
---
Boasting up to 75% off a massive selection of tech products, these Lenovo USA deals rival those not seen since Black Friday last year. Anyone looking to make up for missed holiday gifts or just update their home setup won't be disappointed with the quality and performance of a Lenovo in their life.
Presidents Day Sale! Up to 75% off laptops, desktops, accessories and more! Use coupon code SAVEXTRA5
---
Anyone with a passion for fashion will be heading to Macys.com this Presidents' Day, as the famed department store is slashing prices on designer dresses, suits, handbags, and a whole lot more. Now's also a good time to take advantage of their markdowns on bed & bath essentials and kitchen appliances from some of today's most popular brands.
Presidents Day Sale: Enjoy 25% off select handbags and wallets from Dooney and Burke. Shop now at Macys.com! Valid 2/15 through 2/19
---
Whether preparing to impress the boardroom or taking the high score in an online match, the Dell Home and Home Office affiliate program can be a key player in your patrons' successes. Their reliable workstations are highly regarded by users of all skill levels, as are the brand's big Presidents' Day doorbuster savings of up to 58% off select SKUs.
President's Day Sale! Save up to 40%! Limited Quantity doorbusters at 11AM ET, 2PM, 5PM
---
There are THOUSANDS of clearance deals throughout toysrus.com right now, giving parents with a bit of foresight the chance to save on gifts for upcoming birthdays and other special occasions. The retailer's low prices on video games, LEGO building sets, and learning toys will surely help convert a few extra clicks on your site.
Buy 1 Get 1 50% OFF…Mix & Match! Shop Presidents' Day deals…save in store & online thru Sat., 2/24.
---
Tile Bluetooth trackers are incredibly handy in almost every social situation that people can find themselves in this Presidents' Day, from barbecues to family movie marathons at home. Through their intuitive smartphone app, users can find a lost set of keys, a purse, or anything else that a Tile has been attached to almost instantly, and far quicker than a whole search party of well-meaning friends can.
Buy Tile Pro-Series 4-Packs today to get our lowest prices ever! 36% Savings!
---
Capitalize on these and other appealing Presidents' Day rebates- promote them on your site via FlexOffers.com today!