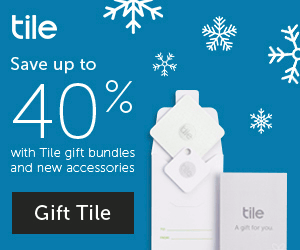 With all the partying your patrons will be doing over the next few weeks, few accessories will prove as useful as a Tile tracker. Portable and powerful, these Bluetooth devices can help locate keys, phones, and other essentials that may have been lost in an evening filled with fun.
Capitalize on these Tile deals available to promote on your site through FlexOffers.com!
---
For a limited time, get 40% off all 16 packs ? now $15 a Tile
Save on the Gift Bundle 8-pack and get free gift pouches!
---
After hours of eggnog and small talk at their company holiday party, it can be all too easy for your audience members to misplace the valuables they rely upon daily. Rather than embarrassingly asking other coworkers if they've seen your lost smartphone or wallet, a quick press of your Tile can pinpoint the item so you can retire for the evening.
Both the Tile Mate and Tile Slim utilizes Bluetooth technology to make finding the item they're paired with a breeze. A Tile Mate can easily fit onto keyrings and purse straps, while the Tile Slim is ideal for slipping into wallets or coat pockets. Both models are durable enough to withstand even the rowdiest of awkward company conga lines, so no matter which Tile model your readers purchase, they'll be thankful at the end of the evening.
---
Save up to 35% on the Gift Bundle 8-pack and get free gift pouches!
Tile is a tiny Bluetooth tracker that finds your keys, wallet, phone, anything. Shop now and save up to 35%.
Save over 15% on the Tile Combo 4-Pack
---
Following a late night of merriment, items can easily get left behind in Uber vehicles or pizza parlors. As it is a "passive network," Tile can help people #SearchSmarter for their goods even if others in the crowdsourcing effort aren't Tile owners themselves… yet.
A few months ago, the Tile community helped actor Nathan Fillion (of Firefly and Castle fame) find a lost key of his in Los Angeles. Requesting his followers via Twitter to download the free Tile app was all that it took to track it down. Even if your site visitors don't have as many followers as Captain Mal, they can still rely upon their friends, family, and others who have downloaded the Tile app to tag and find anything they may have misplaced, too.
---
---
Don't let your web traffic embarrass themselves by losing their valuables this winter. Prevent holiday party fouls with Tile via the FlexOffers.com network today!