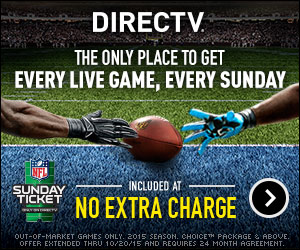 Professional football is kicking off this week, which means plenty of tailgating, watch parties, and crying over fantasy league lineups in your audience's near future. Retailers are taking advantage of this hype with pigskin-centric discounts that are sure to help you and your website score big.
Make it through the red zone by marketing these all-pro deals from FlexOffers.com!
DIRECTV, LLC
If your readers are going to have friends over this Sunday, five minutes before the first snap is not the time to start checking what channel the game is on. The NFL Sunday Ticket from DIRECTV gives subscribers every game, every week, at no extra charge. Problem solved.
NFL Sunday Ticket – EVERY Live NFL Game Every Sunday! Included for FREE with DIRECTV Choice Package $29.99 and above!
PC Richard & Son
Football season is the perfect time to show off new entertainment center setups at home, and the PC Richard & Son affiliate program is the perfect place to gear up. Top-of-the-line televisions, sound bars, and even mini fridges to keep cold beverages within arm's reach during the game can all be acquired here.
Save $400 on the HTNT3 Sound Bar with purchase of Sony TV
Panasonic
Aside from a few science fiction films over the past few decades, I didn't think it was possible to fall in love with a machine until I laid my eyes upon a glorious Panasonic 4k HDTV. With picture quality this crisp, there's really no need to pay for lower-level stadium seats ever again.
Most Popular TV on Sale! $2199.99 Plus free blu-ray player for the 65″ CX800 Series 4k HDTV, Free Shipping. Model #TC-65CX800U!
Sam's Club
Savings are the name of the game all season (and year) long at Sam's Club. Where else can your web traffic get huge discounts on HDTVs, slabs of meat for outdoor grilling, cases of beer, and tailgating gear in a single shopping cart? Convenience at its best.
$255 Off with Instant Savings! Sharp 70″ Class 4K Ultra HD LED Smart TV – LC-70UC30U!
Ashley Furniture
There are a few cardinal rules to abide by when hosting a sportsball match: never run out of food and drinks, make sure your TV doesn't lose reception, and have ample seating for everyone coming over. AshleyFurniture.com stocks come of the most stylish and comfortable sectionals that your patrons have ever seen, offering more than enough room for fans of the home and away teams to enjoy the game.
25% Off Sitewide at Ashley Furniture!
Nike
Nike has always been associated with sports excellence, so it's no wonder they're a beacon for football fans who want to wear the best gear. Your site visitors can represent their favorite AFC or NFC squads in style with these authentic shoes, jerseys, tees, sweaters, and more.
Free Shipping on all orders for Nike+ members at Nike.com
eastbay.com
It doesn't matter if you're putting up points or yelling from the stands when you shop eastbay.com. Customers who frequent this storefront know they'll have access to the top licensed football apparel, shoes, and training gear from high quality manufacturers.
10% off $50 at Eastbay.com! Use Code LKS15949. Valid 9.1.15 – 9.30.15. Online Only, Exclusions Apply.
The Sports Authority
Whether flying the colors of a collegiate or pro team during a raucous tailgating party, The Sports Authority is the place to shop first for licensed apparel, canopies, and compact grills. Make sure not to get too caught up in the fun, though, or you'll burn the hot dogs… again.  
Save 10% off your order with an accessory purchase valued at $20+ with coupon code BONUSBUY at New Balance! Offer ends 9/30. Some exclusions may apply.
Igloo-Store.com
When the game is heating up, football fans will surely want to cool off with a frosty beverage. Thanks to the Igloo-Store.com affiliate program and their legendary line of insulated coolers, they can stay chilled well into overtime.
Shop Thermoelectric Igloo Coolers
Stock Yards
A room full of football fans tend to quiet down if either their team is losing or they're savoring an incredible meal. For the latter, shoppers can't go wrong with the world's finest steaks and chops delivered from StockYards.com. My mouth is watering just thinking of those succulent cuts grilled to a perfect medium rare.
Get Free Shipping On Steaks, Burgers & Other Fine Stock Yard Meats On Orders At Stockyards.Com!
Don't let the sales on your site deflate; promote these deals for football fans via the FlexOffers.com network today!