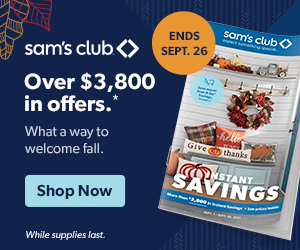 Fall not only signifies lower temperatures but also price drops from reputable retailers across the country. The FlexOffers team has rounded up a breadth of affiliate programs that make it easy for shoppers to fall head over heels for fall deals.
Supply your audience with exclusive fall savings that are now available for promotion through the FlexOffers network!
---
Sam's Club allows your patrons to dive into hundreds of savings. As one of the largest wholesale warehouse clubs, Sam's Club supplies members with an array of products ranging from household essentials to recreational activities. This retailer also incentivizes loyalty through exclusive deals, free shipping, and many other membership benefits. Provide your audience members with a wealth of products and savings when you promote the Sam's Club affiliate program.
Instant Savings for Fall. Get over $3,800 in offers. Shop now while supplies last.
---
Fall brings forth a whole new world of on-the-go fashion for your page viewers to explore. Cole Haan embraces modern fashion, boasting a catalogue of footwear and accessories for everyone. Cole Haan members can also receive bonuses such as exclusive access to product launches, risk-free trials, and deals on select items.
Just for you! Enjoy an exclusive offer of 20% off $200+ with code TAKE20. Shop Cole Haan sandals, sneakers, oxfords and more.
---
Function of Beauty connects your customers to personalized haircare and skincare products. This haircare system provides a unique experience for each of its clients by asking the questions other brands shy away from such as: "What's your hair type, hair goals, and level of scalp moisture?"
Get 15% off your first hair care order at Function of Beauty with code AUTUMNHAIR15
---
Provide your web traffic with direct access to a trove of goodies for all with Hammacher Schlemmer. Hammacher Schlemmer' home goods offer a slew of products that deliver leisure and fun for all ages. As one of America's longest running catalogues, Hammacher Schlemmer enriches its audience with lifetime guarantees, gift certificates, and exclusive décor to give shoppers the tools they need to outfit their home to their liking this fall and beyond.
Fall Essentials Equip yourself with stylish décor and the right tools you'll need this season
---
UNIQLO USA's fall fashion line is comprised of Japanese-inspired streetwear. Channeling style but embracing comfortability, UNIQLO creates sustainable clothing for individuals from all walks of life. This clothing company also collaborates with different aspects of Japanese culture, including but not limited to anime and paintings. For a limited time, publishers promoting UNIQLO USA can earn 5% of sales whilst helping their audience prepare for fall.
Get ready for Fall with Ultra Light Down! Stunningly light, warm, and thin. You'll be prepared, regardless of what the weather brings.
---
FabFitFun produces customizable surprise boxes that are delivered to clients four times a year. Each box is befitting of the current season. Afford your readers the option to peruse and purchase fun gift boxes that perfectly summarize each season when you promote the FabFitFun affiliate program.
Fall is here again! That means early morning hikes, the crunching of golden leaves, pumpkin-spiced everything, and of course, the FabFitFun Fall Box!
---
Market these fall savings that are now available on the FlexOffers.com network!