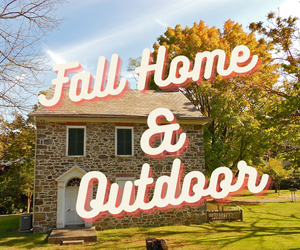 As summer comes to an end, it is time for shoppers to transition their home décor into the warm hues of fall.  
Help your shoppers welcome the new season by promoting these fall home and outdoor deals on your site – available on the FlexOffers network! 
---
The start of a new season is an opportunity for individuals to clear the clutter and reorganize their homes. When browsing wayfair.com, customers will find a vast selection of storage baskets and organization essentials in a variety of sizes that will help them keep their homes organized during fall and beyond.
A captivating floor carpet from Overstock can change the aesthetic of any living room. Overstock.com is an online retailer with an extensive catalog of home and outdoor décor, including washable area rugs. These rugs are made with 100% machine-washable polyester and unique patterns to match everyone's styles. For a limited time, customers can shop at the Overstock Labor Day clearance event and obtain free shipping on all orders. 
Labor Day Clearance Event FREE shipping on EVERYTHING* At Overstock.com. Shop Now
Lovesac is a reputable modern furniture store featuring high-quality bean bag chairs, sectional couches, and accessories in many colors, patterns, and fabrics. When browsing lovesac.com, shoppers will find a variety of adaptable couches for indoor and outdoor living spaces designed to fit anywhere in their homes. Now, Lovesac customers can save 30% off limited edition Sac bundles and obtain fast and free shipping services on their purchases. 
Lovesac Back to School Bundles - 30% OFF Limited Edition Sac Bundles. Plus, Fast & FREE Shipping, 60-Day Home Trial, and 48-Month Financing
If your shoppers are in the market for a new, comfortable mattress, then they needn't look any further than Ashley Homestore. Ashley Homestore is one of America's favorite home décor stores featuring high-quality and affordable products such as furniture, lighting fixtures, and mattresses. Its user-friendly site allows customers to purchase from a vast selection of comfortable and supportive mattresses based on price, size, and material.
Shop New Low Prices on Ashley Sleep Mattresses
Thumbtack is a home services website that helps people take care of their homes from top to bottom. At thumbtack.com, customers will find an extensive list of guides for all kinds of DIY home projects and insightful tips on fall decor from industry experts. Homeowners who join thumbtack.com can hire local service providers for home improvement projects and obtain guidance on how to update their homes for the upcoming seasons. 
Thumbtack has guides to help you with projects big and small
Aosom.com can help customers redecorate their outdoor spaces with modern patio furniture and cozy accents. During Aosom's clearance event, your patrons can score enticing savings on patio sofas, hanging porch swings, shades, and more home supplies that will give their outdoor spaces a cozy aesthetic for the cold months.
Narwal is on a mission to revolutionize the home cleaning industry by offering customers innovative products that will save them time and energy. The Narwal T10 is Narwal's efficient cleaning robot that vacuums and mops hard flooring to eliminate stains and wet spots with ease. Promote Narwal deals on your site and provide your patrons with the means to purchase a quiet and efficient robot vacuum for their home. 
Quiet and efficient at work, the Narwal T10 frees your hands from tedious household chores.