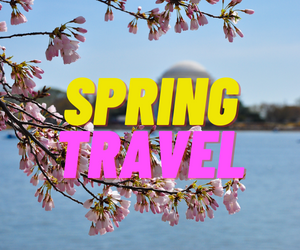 If your customers are in search of new and trendy apparel pieces for their upcoming vacation, then they needn't look any further than NewChic. When shopping at newchic.com, fashionistas will be privy to an extensive collection of affordable apparel with unique and fun designs suitable to match everyone's style. Now, NewChic customers can save 15% off sitewide when using the code NCAFF15 at checkout.
15% OFF Sitewide with code: NCAFF15
Whether going on a romantic escape or a family vacation, IHG offers budget-conscious customers stylish hotels and family-friendly resorts in hundreds of locations around the globe. When staying at one of the many hotels and resorts from IHG, travelers are guaranteed the highest level of service and luxury in every stay at affordable rates. For a limited time, IHG members can book early and save up to 15% off their stay when booking directly with ihg.com.
Book early and save up to 15%—with the Member Rate.
This spring, camping enthusiasts can embark on a cross-country adventure in the RV of their dreams with RVShare. RVShare is an online platform that connects RV owners and renters in the U.S. allowing families everywhere get a taste of the open road for themselves.
Rent an RV this weekend for under $100 per day
Hertz is the online destination for car and truck rentals. Whether going on a road trip with friends or exploring the city streets while on a business trip, Hertz.com helps customers go everywhere they need to in the car they choose. Currently at hertz.com, customers can save 15% off base rates on their next daily or weekly rentals. 
Save 15% off the base rate on your next daily or weekly rental
CheapTickets affords travelers affordable vacations that their wallets can agree on. From flexible stays to discounted airfare, Cheaptickets.com works extensively to provide shoppers enticing deals on flights, hotels, and car rentals around the globe. Now, CheapTickets' customers can find hotel deals under $49 a night.
If travelers are not ready to let go of the snow and the winter temperatures, Orbitz helps them plan one last snowy escape before the new season takes over. At orbitz.com, customers will gain access to an extensive list of beautiful, snow-covered mountain cabins and resorts suitable for travelers to enjoy the cold weather in style.
Last-Minute Deals at Expedia.com.
Planning a last-minute getaway with family and friends can be easy and affordable with Expedia.com. Expedia offers extensive choices and great deals that allow customers to plan their trip to the destination of their choice at any time without going over budget. 
Last-Minute Deals at Expedia.com.