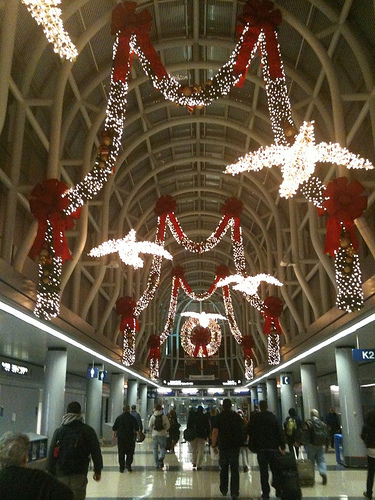 A problem all too common around the winter holiday season, millions of people find themselves alone during what is supposed to be the most wonderful time of the year. Many individuals take this time to travel and visit family, or as a chance to seek someone new and refreshing to share their time with. As as affiliate marketer, promoting a few key affiliate programs is all it takes to help your single audience members seek familial warmth during the holidays.
Gathering the Griswolds: Traveling During the Holidays
Airports are almost comically congested during the winter holiday season from people traveling to visit their family and friends. For a single person though, this is a small price to pay to enjoy something as simple as a nostalgic home-cooked meal with loved ones.
The spectrum of potential travel-related purchases in this category ranges from initial round trip flight bookings to car rentals while they're in town visiting, and hotel room rentals if family gatherings don't have a picturesque Jimmy Stewart ending. Most popular travel affiliate programs offer these services in packages for extra savings, making them even more attractive for would-be travelers.
There are members of your online audience who have already begun booking flights and reserving rental cars as part of their holiday plans. Each day that passes without you promoting a popular travel affiliate program on your website in anticipation of their business is a lost opportunity.
---
Forgetting Forever Alone: The Compulsion of Companionship
Love, actually, is a very complicated state of being that Hollywood films perpetually hang over people's heads as the only way to spend the holidays. Many people would love to actually have someone to meet in Montauk, and are motivated by cold winter nights to find that special counterpart to spend their time with.
Though a few months off from Valentine's Day, there are still holiday parties, family gatherings, and other occasions that some of your single site visitors would love to share with someone. By promoting lifestyle service affiliate programs that match compatible singles, you could help people potentially find that missing piece of their lives that would mean more than anything that could possibly be wrapped and adorned with a bow.
No Longer Sleepless: Creating Options in the Off-Season
It's not too early to consider some of the highly lucrative habits that single members of your audience will likely be succumbing to with the winter holidays right around the corner. Understanding basic human needs in this regard is simple to comprehend though not always obvious, and presents ample promotional opportunities for certain affiliate programs on your site. Keep in mind your own desires during the holiday season, and you too might make a few wishes happen this year.