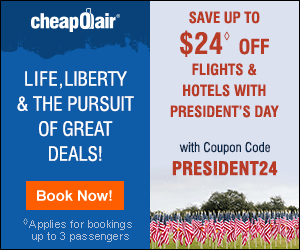 Life, liberty, and the pursuit of happiness are the ideals this great nation was founded upon and now shoppers can realize visions conceived by their founding fathers through brands they know and love.
Help your site visitors discover products that allow them to successfully navigate their daily lives by promoting these prosperous Presidents Day savings now available on the FlexOffers network!
---
The American bald eagle aptly symbolizes the strength and freedom of America. By booking a flight through Cheapoair.com, your page viewers can also fly like an eagle and save considerable cash in the process. Cheapoair.com also provides affordable rates on hotels, cars, cruises, and vacation packages which affords vacationers the opportunity to bundle and save.
Life, Liberty & the Pursuit of Great Deals! Save up to $24 off our Fees on Flights with Code PRESIDENT24.Book Now!
---
If our forefathers were here today, they'd appreciate the upgrade from a quill pen to a ThinkPad E585 by Lenovo USA. The ThinkPad E585 possesses aesthetic appeal and powerful performance which maximizes productivity. Now at Lenovo.com, nine-to-fivers can save up to 33 percent off ThinkPad PCs and receive free shipping with coupon code THINKPRESDAY and work more efficiently than our presidents of yesteryear could begin to fathom.
Presidents Day Sale! Save up to 33% off ThinkPad PCs + free shipping! Use code THINKPRESDAY
---
Through the Macys.com affiliate program, your patrons can peruse over 800 stylish high heels and sort through its inventory by color, size, type, brand, and material. Currently, at Macys.com fashionistas can purchase pumps that perfectly complement their favorite outfit, and take another 20 percent off this Presidents'Day with coupon code PRES. They'll also receive free shipping on items $49 and up.
Take 20% off Presidents Day Sale with code PRES plus Free Shipping at $49. Shop now at Macys.com! Valid 2/15-2/18.
---
Whether the fashion gurus among your audience are transitioning their wardrobe out of winter, or simply in need of new garments, you'll certainly want to promote the Saks Fifth Avenue affiliate program on your landing page. SaksFifthAvenue.com houses seasonal apparel from top designers such as Gucci, Prada, Theory, and more permitting its customers to find on-trend hues and prints throughout the year.
Presidents Day Sale. 30-50% Off Select Bedding, Bath, Kitchen, Home Decor, & Discontinued Styles. 2/14-2/18. Shop Now!
---
Searching for bedding that serves as an accompaniment to one's bedroom has never been easier, as Bed Bath & Beyond sells over 3,000 comforter sets at bargains even the most budget-conscious consumer can appreciate. Among its several bedding options, BedBathAndBeyond.com provides your web traffic sumptuously soft UGG comforters comprised of 100 percent polyester fill and plus-box stitching that keeps them warm all year long.
Save up to 30% off Accent Furniture during Presidents Day Preview savings event
---
Weekday warriors are constantly on the go, which makes it increasingly more important for homeowners to find comfortable seating that allows them to rest their lazy bones when they return to their residence. Thankfully, Target.com has seating options like the Bellingham Sofa – Project 62 which grants your readers a cozy seating experience, coupled with a style that blends effortlessly into any setting.
HUGE online-only Presidents Day Sale. Save. Big. Now. Valid 2/10-2/18.
---
Market these prosperous Presidents Day savings now available on your landing page via the FlexOffers.com network!